Rand Paul and John McCain: Odd Couple New to Senate Foreign Relations Committee
One wants to shrink the Pentagon's budget and keep America from being embroiled in more Middle Eastern Wars, the other thinks we should be intervening and supplying arms to rebels everywhere and is raring for war with Iran. One is willing to mention the reality of "blowback," the other thinks American righteousness in its use of force is unquestionable. Can these two men--Senators Rand Paul and John McCain--find fulfillment together on the Senate Foreign Relations Committee, to which they've both been appointed?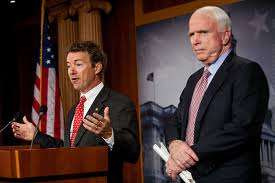 James Antle wonders at the Daily Caller:
McCain and Paul have differed on military involvement in Libya, arming Syrian rebels, the size of the Pentagon budget, warrantless surveillance and foreign aid. Paul also opposed the Iraq War and tried to revoke its congressional authorization. McCain was a staunch supporter of the war.

….tensions between Paul and McCain escalated during the NDAA fight.

"I find it disappointing that one member of the United States Senate feels that his particular agenda is so important that it affects the lives and the readiness and the capabilities of the men and women who are serving in the military and our ability to defend this nation," McCain said of Paul's NDAA filibuster….

"The right to due process, a trial by jury, and protection from indefinite detention should not be shorn from our Bill of Rights or wrested from the hands of Americans," Paul said of the McCain-led conference committee report on the NDAA. "It is a dark day in our history that these rights have been stomped upon and discarded."

Paul's statement explicitly blamed McCain for the stomping and discarding….
Reason clips on Rand Paul and foreign policy.
The Jerusalem Post on Paul's planned trip to Israel next week. Of that Paul says:
"If you want to be part of the national debate and hopefully part of the solution someday to what happens in the Middle East, having been there gives you more credibility with some folks."

After meeting with Netanyahu and Peres, Paul is scheduled to travel to Jordan on Tuesday and meet with King Abdullah and Palestinian Authority President Mahmoud Abbas. He plans toreturn to Israel on Wednesday and tour the Galilee.

The trip is sponsored by the American Family Association, a conservative Christian group that promotes fundamentalist Christian values. Paul will be travel along with approximately 50-100 evangelical Christians, including politically well-connected figures in South Carolina and Iowa, which will hold early 2016 caucuses and primaries.