The Problem with Secret Drone War
It's never a secret to those being bombed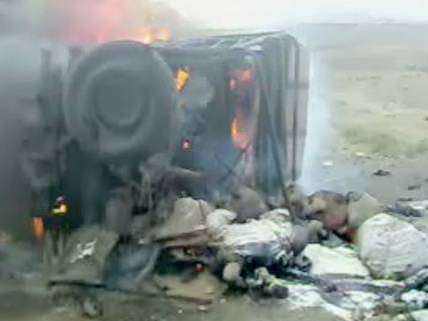 Foreign Policy presents an "air attack gone wrong":
Quoting unnamed Yemeni officials, local and international media initially described the victims of the Sept. 2 airstrike in al-Bayda governorate as al Qaeda militants. After relatives of the victims threatened to bring the charred bodies to the president, Yemen's official news agency issued a brief statement admitting the awful truth: The strike was an "accident" that killed 12 civilians. Three were children.

Nearly four months later, that terse admission remains the only official word on the botched attack. A Washington Post article, published on Dec. 24, reports that "U.S. officials in Washington, who spoke on the condition of anonymity because of the sensitivity of the matter, said it was a Defense Department aircraft, either a drone or a fixed-wing airplane, that fired" on the vehicle. But the people of al-Bayda still have received no official word as to who was responsible for the deaths—the United States, which in the past year has accelerated its covert targeted-killing program against Yemeni-based al Qaeda in the Arabian Peninsula; or the Yemeni government, whose new president, Abd al-Rab Mansur al-Hadi, was installed with Washington's help.
There have been more than 116 drone strikes in Yemen since May of last year. The president only acknowledged military operations in Yemen in June. The lack of acknowledgement didn't stop the CIA from getting expanded authority to kill militants a few months prior.
h/t to Anthony Shaffer for the link, who adds on Facebook: "The kill with no capture [policy] is distracting from going after the re-emerging terrorist networks—this sort of thing actually gives them time and an additional pool of likely targets to recruit from—by killing innocents like this we have potentially made their surviving family into, at minimum, supporters of the terrorists"
Update: Our own Matt Welch highlighted this article earlier today.