If You Need Another Reason to Be Glad that EPA Administrator Lisa Jackson is Resigning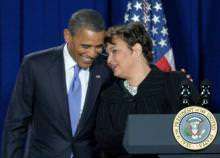 Here's one. The folks over at the Renewable Fuels Association are praising Administrator Jackson for all the good work she did for their industry:
Statement by Bob Dinneen, President and CEO of the Renewable Fuels Association (RFA), on the announced resignation of EPA Administrator Lisa Jackson:

"Administrator Jackson put into action the Obama Administration's commitment to ethanol and other biofuels. During her tenure, she cleared the way for E15 giving consumers more choice and savings at the gas pump and she protected the progress that has been made in reducing our dependence of foreign oil by recognizing the importance and inherent flexibility of the RFS. The ethanol industry thanks her for her service and looks forward to working with her successor to continue the growth of America's domestic renewable fuels industry."
See Reason's extensive archive on the economic and ecological stupidity of ethanol subsidies and mandates.