U.S. Military Working on Mali Intervention as USS Eisenhower Moves off the Coast of Syria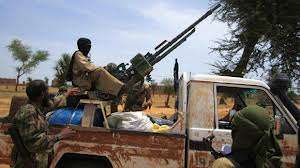 The Obama administration has announced that the U.S. military is working with the African Union and ECOWAS (Economic Community Of West African States) on military action in northern Mali, where Islamic militants have moved in.
From AP:
Officials from the State and Defense departments told senators that the United States was working with the African Union and ECOWAS, the 15-member Economic Community of West African States, on a planned military action in northern Mali. But there are limits to U.S. involvement.

"We have sent military planners to ECOWAS to assist with the continued development and refinement of the plans for international intervention," said Johnnie Carson, assistant secretary for African Affairs. "Any attempt to militarily oust a AQIM from northern Mali must be African-led. It must be Malian-led," he insisted.
What is especially concerning is what U.S. assistance could look like:
Amanda Dory, the deputy assistant secretary for Africa at the Pentagon, told the subcommittee that the United States is considering support for countries that contribute troops to the mission. That possible assistance includes training and equipment, as well as additional planning and advisers.
What exactly an "adviser" is was not made clear. Nor was it made clear how long U.S. assistance would last.
The glaring omission to most of the discussions about Mali is that it was foreign intervention in Libya that caused Islamic militants to move into Mali in the first place. Ed has written on the issue here and here.
The announcement comes amid an escalation in posturing regarding Syria, with Obama and Clinton both warning the Syrian government not to use chemical weapons and NATO sending Patriot missiles to Turkey. Today, it was announced that the USS Eisenhower, which holds eight fighter-bomber squadrons and 8,000 men, is now off the coast of Syria.
Does anyone know where the left-leaning anti-war movement went?