D.A.R.E., America's Most Famous Anti-Drug Program, Will No Longer Talk to 10- and 11-Year-Old Children About Marijuana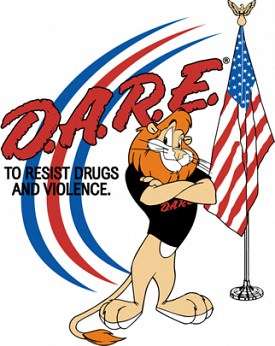 D.A.R.E., the national nonprofit that has promoted "Drug Abuse Resistance Education" to elementary, middle, and high school students since the early 1980s, will all but drop anti-drug material from its curriculum for fifth and sixth grade students, according to a state chapter leader and a letter released by D.A.R.E.*
"D.A.R.E. America has determined that anti-drug material is not age-appropriate," the state affiliate leader, who asked not to be identified, told Reason. "The new curriculum focuses on character development."
News of a major curriculum change was first reported in early November when an elementary school resource officer in Kennewick, Washington told KNDU25, "The new curriculum starts as of December for us…it does not bring up the subject of marijuana at all." (Marijuana is the only illicit drug that D.A.R.E. claims to have reduced the use of through its educational programs. Drug reform advocates have slammed D.A.R.E. for its characterization of pot.)
I emailed D.A.R.E. America's headquarters in California on Nov. 6 (the same day Washington legalized recreational marijuana) hoping to learn more about the alleged curriculum change. I also emailed the head of the Washington chapter and the head of the regional chapter. I didn't hear back from any of them.
Then late last week, a state affiliate contacted me to say that the Kennewick officer's claim was true.
I called D.A.R.E. America to confirm. "There's a one-page document that explains all this," the D.A.R.E. America staffer told me. He then said, "Are you the guy who emailed about Washington?" I told him I was. He promised to email me the document explaining the curriculum change. We hung up. The document never arrived.
UPDATE: A third party just sent me the D.A.R.E. one-pager outlining the curriculum change. Here's what it says about marijuana:
Recent press reports regarding the new D.A.R.E. keepin' it REAL (kiR) elementary curriculum not addressing marijuana are incorrect.

The subject of marijuana is attended to in the new D.A.R.E. kiR elementary curriculum. The topic, however, is addressed only after it has been established to be an age appropriate topic for the individual concerned classroom.

A wealth of research data substantiates the two most common and dangerous drugs with which elementary aged students have knowledge or familiarity are alcohol and tobacco. These are the substances, across all segments of the population, with the highest use levels at this age group. The experience or knowledge of alcohol and tobacco creates an environment in which it is appropriate to talk with young students about these drugs.

The D.A.R.E. kiR elementary curriculum provides information about drugs, focusing on alcohol and tobacco. Students learn to apply the information, within the constructs of a decision-making model, and to employ resistance skills in making safe and responsible decisions about drugs. While we do not focus individually on all possible drugs which can be abused, we believe the students can apply the learned decision-making model and developed resistance skills to other substances such as methamphetamine, prescriptions drugs, cocaine/crack, heroine, etc.

For the general population of 5th/6th grade students, the topic of marijuana is not age appropriate. Most students in this age group have no basis of reference to the substance. Research has found that teaching children about drugs with which they have never heard of or have no real life understanding may stimulate their interest or curiosity about the substance.
The curriculum change is likely part of an ongoing attempt by the organization to restore its credibiliy with the scientific community. In 1999, the American Psychological Association conducted a study of D.A.R.E. graduates and concluded that its curriculum was ineffective. The Office of the Surgeon General made the same pronouncement in 2001, and the Government Accountability Office announced in 2003 that D.A.R.E. programming had actually correlated with increased drug use among some adolescents. As a result of these reports, D.A.R.E. America's revenue declined from $10 million in 2002, to $3.7 million in 2010 (the last year for which the organization's 990 records are publicly available) causing D.A.R.E. America to rack up million-dollar operational deficits in 2010 and 2009. To reverse this trend, D.A.R.E. America unveiled Keepin' it Real in 2011. The program was developed by researchers at Penn State, and is, according to D.A.R.E., evidence-based.
D.A.R.E. America's difficulties aren't limited to promoting its new curriculum, however. The group is also being sued–by D.A.R.E. New Jersey.
According to a lawsuit filed in L.A., and first reported by Courthouse News, D.A.R.E. New Jersey is suing D.A.R.E. America for "put[ting] thousands of New Jersey school children at risk by revoking the state affiliate's charter, because it used its own drug abuse prevention program in elementary schools."
"D.A.R.E. America claims that D.A.R.E. New Jersey implemented the 'Too Good For Drugs' program surreptitiously, even though D.A.R.E. New Jersey has attempted to correspond with D.A.R.E. America about the program since 2011 and, in 2012, discussed the option in person with [nonparties] D.A.R.E. America's President and CEO Charlie Parsons and D.A.R.E. America's Executive Director, Frank Pegerous," the complaint reads.
The suit goes on to say that the decision "flies in the face of the unparalleled success of D.A.R.E. New Jersey and its commitment to drug abuse prevention education for hundreds of thousands of New Jersey school children and thousands of school administrators, teachers, and police officers who are united in the fight against drug abuse. It also is inconsistent with the management across the country because, virtually none of the programs affiliated with D.A.R.E. America exclusively offer D.A.R.E. Programs."
D.A.R.E. New Jersey isn't just any old D.A.R.E. outfit, however. According to 990 forms, The New Jersey group's revenue was $20 million in 2010, and $21.3 million in 2011. That makes it one of the few nonprofit affiliates in the country–possibly the only one–that has a budget five times the size of its national organization.
Kevin Sabet, currently of the University of Florida and formerly of the Office of National Drug Control Policy, says "It is clear that DARE is moving in the right direction—learning from its past challenges and recognizing the need to integrate evidence-based principles in its work. It started down this path more than ten years ago when it brought together the country's top scientists—and indeed its harshest scientific critics—to begin to change its curriculum. For this reason, it should be encouraged, not bamboozled by folks who never liked DARE to begin with. DARE remains the most popular drug education program in the history of drug education. Fixing it is a good thing."
*This report originally said that D.A.R.E. would drop marijuana from its curriculum for young children. The story has been updated since obtaining an internal document from D.A.R.E., in which the group says it will not teach fifth and sixth grade children about marijuana.