Bloomberg Wants Nearly $10 Billion From Feds For Hurricane Sandy
Governors of New York and New Jersey combine for $72 billion in requests for federal aid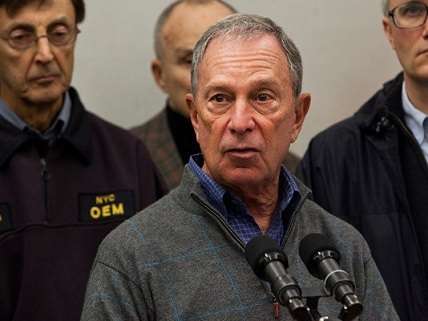 As noted on Reason 24/7, Mayor Bloomberg is asking for an additional $9.8 billion dollars from the federal government for post-Sandy recovery. In a letter to New York City's congressional delegation, the third-term mayor said the city received $5.4 billion in "FEMA reimbursements" and $3.8 billion in private insurance payouts. He said there were another $4.8 billion in uninsured private losses. The total cost to city agencies was $4.5 billion. The FEMA reimbursements include 75 percent coverage for "public asset losses" and 90 percent coverage for public "uninsured clean-up costs."
Of the nearly $10 billion the mayor is seeking in extra money from the feds, $5.7 billion goes to cover "estimated net indirect losses" like lost gross product. Yet despite Hurricane Irene making its last landfall (as a tropical storm) on Coney Island in 2011, the word "disaster" doesn't appear once in the city's FY 2012 budget summary.
Many local businesses, meanwhile, are complaining about insufficient aid. More than a hundred in Brooklyn showed up to protest 30 year low interest business loans on offer from the feds. And the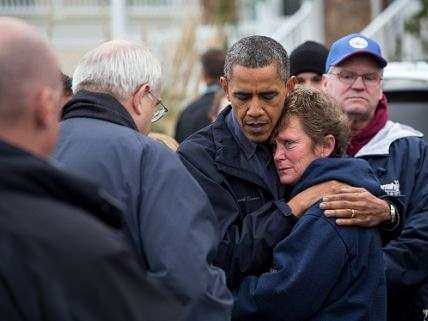 New Jersey woman the president embraced on his visit to the region after the hurricane hit has since lost her marina business. She tells Fox News she regrets the photo; that the president wasn't coming through on his promise to help, despite her being offered a loan at six percent by FEMA.
Governor Andrew Cuomo has asked for $42 billion from the feds or post-Sandy relief in New York (with $15 billion requested for NYC) and Governor Chris Christie, who is running for re-election next year, is asking for nearly $30 billion for New Jersey. Not helping with the fiscal cliff.