SCOTUS Won't Let Cook County Prosecute People for Recording Cops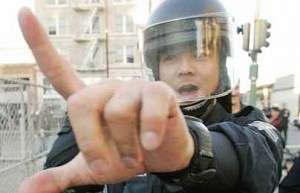 Today the U.S. Supreme Court declined to review an appeals court decision that blocked enforcement of the Illinois Eavesdropping Act against people who record police on the job in Chicago and other parts of Cook County. Under the law, the strictest of its kind in the country, recording cops without their permission is a Class 1 felony, punishable by four to 15 years in prison. Last May the U.S. Court of Appeals for the 7th Circuit, responding to a lawsuit by the American Civil Liberties Union of Illinois, ruled that the statute "restricts far more speech than necessary to protect legitimate privacy interests" and "likely violates the First Amendment's free-speech and free-press guarantees" when applied to "people who openly record police officers performing their official duties in public." (State judges in Cook and Crawford counties also have deemed the Illinois Eavesdropping Act unconstitutional.) The 7th Circuit ordered the U.S. District Court for the Northern District of Illinois to enjoin enforcement of the law against the ACLU's police monitors until the case is resolved. Cook County State's Attorney Anita Alvarez asked the Supreme Court to override the 7th Circuit.
Even when the law is not on their side, of course, cops may still hassle you for daring to record them on the job. Photography Is Not a Crime provides yet another example:
Daniel J. Saulmon was charged with resisting, delaying and obstructing an officer, but the video shows he was standing well out the way of a traffic stop and was only arrested when he failed to produce identification to an approaching officer….

There is no law in California that requires citizens to produce identification….

Prosecutors have already dropped the charge against Saulmon as well as a few other minor citations relating to his bicycle such as not have proper reflectors on the pedals.
California's wiretap law makes it a crime to record "confidential communications" without the consent of all parties. Communications are considered confidential when there is an objectively reasonable expectation of privacy. The U.S. Court of Appeals for the 9th Circuit, which includes California, has recognized a First Amendment right to record police in public.
Radley Balko chronicled "The War on Cameras" in the January 2011 issue of Reason. Last spring Steve Silverman suggested "7 Rules for Recording Police." More from Reason TV: