Want to Rob People for a Living? DHS Will Pay You $106k a Year to Be an "Asset Forfeiture Specialist"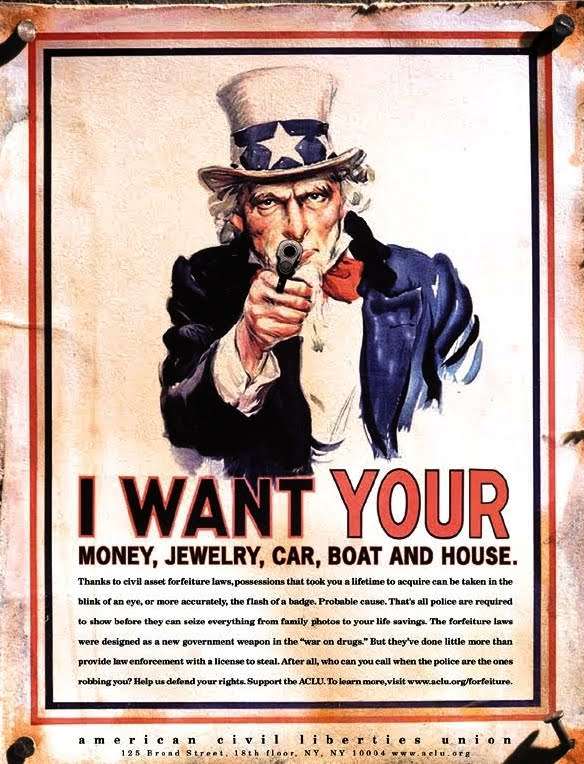 "Do you desire to protect American interests and secure our Nation while building a meaningful and rewarding career?" If so, the Department of Homeland Security is looking for an asset forfeiture specialist to work for Immigrations and Customs Enforcement in its New Orleans office. The job pays between $68,000 and $106,000 a year, depending on how much experience you have legally robbing people.
Here are the "key" requirements:
You must be a U.S. citizen to apply for this position
You must successfully pass a background investigation and drug screen
Males born after 12/31/59 must certify registration with Selective Service
Those are the most basic requirements for being an "asset forfeiture specialist," or any other type of federal bureaucrat, really. What ICE prefers to see in an applicant is
knowledge of asset forfeiture programs, policies, processes, and methods
skill serving as a technical expert on assignments requiring te application of new concepts, practices, and developments as related to the Asset Forfeiture Program
knowledge of law enforcement intelligence gathering techniques associated with asset forfeiture investigations
skill developing and recommending alternative solutions to unique and comples [sic] problems associated with the Asset Forfeiture Program
skill reviewing and analyzing various financial documents and preparing a variety of written reports as related to the Asset Forfeiture Program
I'd like to meet the person who knows that much about asset forfeiture and still wants to facilitate it.