Hurricane Sandy: A Tale of Two Headlines
The bigger-is-better narrative falls apart.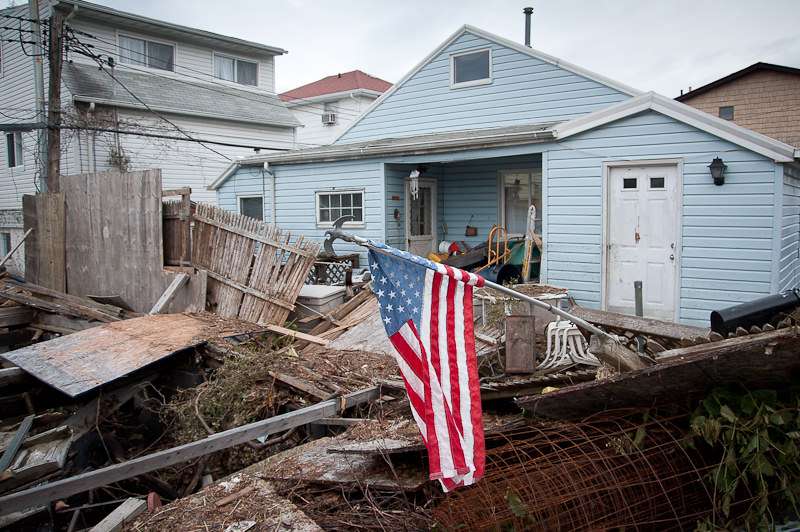 As Sandy moved up the Atlantic coast, The New York Times summed up the conventional wisdom about the hurricane and the feds in an editorial headlined "A Big Storm Requires Big Government." It wasn't long before that story started coming apart, and at this point it may be safe to say that the narrative has completely reversed. Here's The Brooklyn Bureau, reporting under the rather different headline "Grassroots Groups Have Taken Over Sandy Relief":
In the days after the deluge, as Gerritsen residents began the process of sifting through their possessions to find what was salvageable, the relief effort got underway. But as has been the case in other stricken communities, the effort was led less by government agencies than by members of the community themselves — in this case, members of "the Vollies," Gerritsen Beach's volunteer fire station, the last volunteer fire department remaining in the borough and a symbol of the proud but increasingly frustrated self-reliance that has come to typify post-Sandy aid efforts.

Twelve days after the storm, the Vollies headquarters in the hard-hit "old section" of Gerritsen nearer the ocean is a hive of donated food and clothes, volunteers from all over, lists of electricians and plumbers hastily scrawled on pages from legal pads and taped to a wall. A food truck, normally resident in Midtown, has been dispatched by the mayor's office to serve free meals. National Guard troops based at nearby Floyd Bennett Field sort through a mountain of clothing. Amid the maelstrom, Assistant Fire Chief Doreen Garson is a nonstop ball of energy, directing volunteers, "Right now," she says, "we're acting as our own little city."…

By comparison, there has been less visible support from city and federal agencies. In particular, the Federal Emergency Management Agency—which has already been lambasted in the media for shutting down many of its aid centers for two days "due to weather" when a nor'easter swept through last week, and for being outperformed by a bunch of ragged veterans of Occupy Wall Street—gets little praise from the storm survivors thronging the Vollies hall.
The Times piece didn't just praise FEMA; it singled out the agency's "war room," the place "where officials gather to decide where rescuers should go, where drinking water should be shipped." Turns out that those aren't areas where central planning works well, no matter how much the phrase "war room" excites the editorialists of The New York Times.