Greetings from the Single-Party State of California!
Democrats may soon have veto-proof majority in the state's legislature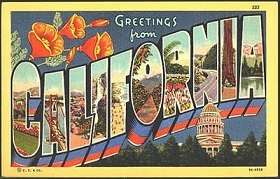 No, we really mean it this time. Tuesday's election appears to have brought a Democratic supermajority in to California's state legislature. When the new legislature is seated, Democrats will control two-thirds in both the state Assembly and the state Senate.
As the Sacramento Bee terrifyingly describes:
With all precincts counted, Democrats led in enough races to clear that two-thirds threshold, which would allow them to pass tax increases without needing GOP votes. Such a supermajority would also allow Democrats voting as a bloc to place constitutional amendments on the ballot or override vetoes of Gov. Jerry Brown.
After the Proposition 30 tax increase passed, I find it a little hard to worry about more possible tax increases. It's akin to worrying about getting pelted by hail after you've been struck by lightning. California's GOP has been largely ineffective for several years anyway when it comes to holding the line on taxes.
It's actually the governor losing his veto power that should concern people. Yeah, Brown has been fairly bad in many areas, caving in to the prison unions and presenting an extremely limp state pension reform bill that helps get rid of some serious abuse but fails to deal with the underlying unsustainability of the system.
But California's legislature pushes dozens of poorly-thought-out bills through each year, leaving the governor to bring the hammer down on some potentially very bad ideas. As Larry Gerston, political analyst for NBC in the Bay Area noted, Brown has vetoed 13.1 percent of the bills that have crossed his desk over the past two years. That's about half as much as Gov. Arnold Schwarzenegger vetoed, but it's not nothing.
Of note, Brown vetoed the Domestic Workers Bill of Rights, which carved out union-style rights for home workers, like mandated uninterrupted break periods. He was not unfriendly to the bill's aims, but pointed out a number of logistical problems with the legislation that would have unforeseen consequences, like whether it would apply to part-time baby-sitters and whether it would increase the costs for the disabled and elderly to get help.
Also of note, Brown famously killed off California's incredibly corrupt, eminent-domain abusing, crony-capitalism feeding redevelopment agencies, redirecting the money they were siphoning off special districts back where they came from. The legislature immediately went to work trying to resurrect the system under a different name. It passed, but then Brown vetoed it.
On the other hand, Brown has vetoed yet another effort to allow media to gain access to state prisoners for interviews, something journalists have been trying to get passed for ages.
Senate President Pro Tem Darrell Steinberg is already putting his wish list together. Note the sheer lack of much to do with fiscal solvency:
Steinberg talked of using the supermajority to reinvest in public schools and colleges, restore adult dental care for the poor, and alter the initiative process in a way that makes it harder for millionaires to impose their will by spending vast sums qualifying a measure for the ballot.

The Senate leader said he might be willing to consider overhauling the state's income tax structure to lower rates but broaden the base, and to consider a constitutional amendment laying the groundwork for same-sex marriage.
Adult dental care for the poor! Exactly what we need with a cash deficit somewhere around $20 billion, according to the state controller.
There are two races in Orange County and Sacramento County that are very close, and the GOP is not willing to concede as yet. There is a possibility that the ability to keep the Democratic legislature from overruling the Democratic governor rests in the hands of two Republicans.