Gary Johnson Not Sure He'll Run for President Again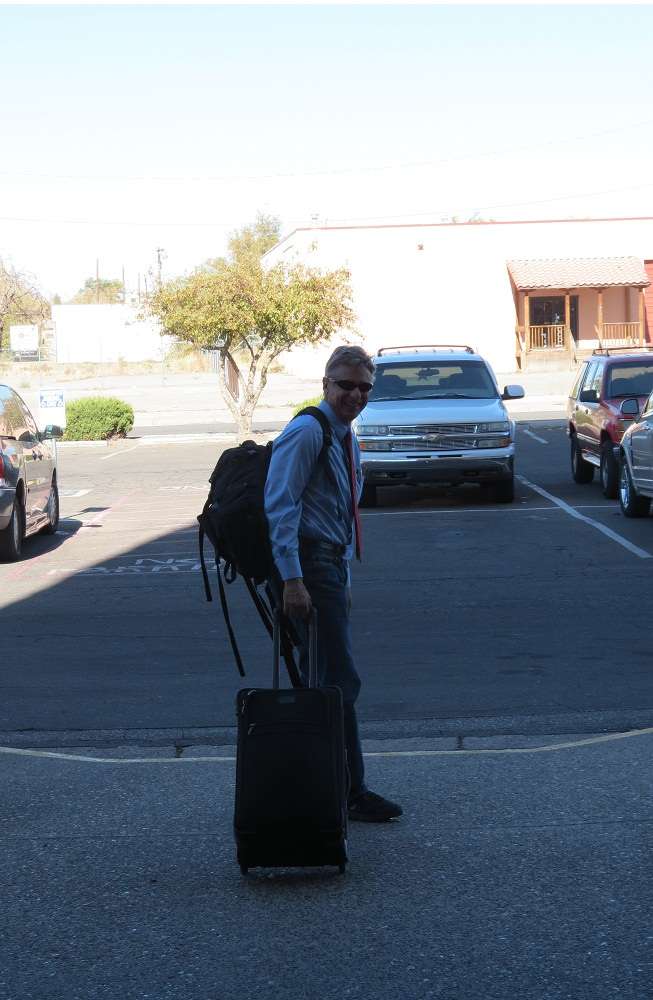 ALBUQUERQUE – Gary Johnson rolls his carry-on luggage into the western chic lobby of the Hotel Albuquerque the morning after Election Day with the same carefree swagger he showed throughout his 2012 presidential campaign. Wearing sunglasses, he sets down his LL Bean looking backpack and extends a hand, issuing his favorite greeting, "Whadya know, man?"
He's chirpy and refreshed after an early night on the final day of a nationwide journey that started in April 2011. This was not the demeanor one would expect from a man who just finished in third place in a presidential election with 1 percent of the popular vote.
"I'm disappointed really from last night. I don't think the vote was reflective of the excitement that is out here, the sentiment that is out there, I mean what that's due to? Did it have to do with the fact that people really did take it to heart that their vote wasn't gonna count and the lesser of two evils stuff as opposed to voting for the person you most align yourself with? I do think what I am saying aligns with most Americans but that didn't bare itself out at all so that was a disappointment," he says as communications director Joe Hunter looks on.
Despite his liveliness the morning after a record setting result for a Libertarian presidential candidate, Johnson can't contain his dejection at the way things turned out.
"On an expectations level we were really thinking twice that amount was really kinda the lower end of it. Because of the resources we had, we weren't able to tap into whether that was gonna happen," he says.
Discussions with Johnson's staff revealed that, indeed, they did not conduct any internal polling throughout the campaign due to limited resources. So, they looked to other signs of interest and support like public polls where he was included on the list of candidates, and internet metrics. Johnson rattles off some facts and figures about Google+ and Twitter, then stumbles. Hunter intercedes with some search engine numbers.
"You were the fourth most searched in the last couple of days," Hunter says.
"I was the fourth most searched in the last couple of days! Wow! That just didn't equate to the votes," Johnson says.
"I thought we generated the excitement, I thought we put a voice to issues that needed a voice. I think we did it. Like I say, from our vantage point we were gonna do a lot, lot better. That was based on polls that as recently had me at 5.6 percent in Ohio. That didn't pan out at all; it just evaporated," Johnson says.
Getting one percent of the popular vote was not exactly how Johnson hoped this nearly two-year journey would end, but it's something he considered. "I did envision this path. The notion of potentially running as a Libertarian, I did see that down the road," he says.
There isn't anything he thinks the campaign could have done differently, outside of raise more money, to improve the result. Johnson likes to point out that they spent approximately $2 per vote and got 1/100 of the popular vote. Johnson doesn't have much sympathy for Romney or openness to the idea that Libertarians should abandon the LP and infiltrate the other parties to make them more libertarian. Johnson says he thinks Libertarians are making the other parties more libertarian by remaining in the LP.
In the short term, Johnson plans to go back to his house in Taos to conduct some long overdue home maintenance before heading to Washington next week for some media appearances and party business. The long game for Johnson, though, is a bit more blurry. In earlier interviews with Reason he's hinted at the possibility of another presidential run in 2016, but now, the morning after, he sounds more uncertain.
Taking into account the track record of third party presidential candidates that run in consecutive cycles he said that he probably wouldn't do so well. Ross Perot and Harry Browne both saw their vote totals go down by nearly half the second time they ran. Ralph Nader peaked in 2000 and never came close to those numbers in two subsequent presidential runs in 2004 and 2008.
"You can't not do this and not be aware of the history. The history would suggest that we would do worse if we try this again," Johnson says.
A Republican operative in New Mexico told me last night that Johnson could have done well, if not better than Heather Wilson, in the race for U.S. Senate here, but Johnson maintains that it's an office he has no interest in. Democrat Martin Heinrich defeated Wilson 51-4.5 while Jon Barrie, running on the American Independent line, picked up 3.6 percent of the vote.
"I would have never predicted this," Johnson says on the outcome of the Senate race in his home state where he is still fairly popular.
Johnson says he plans to stick with the Libertarians but he would not rule out a return to the Republicans for a future run.
"Never say never."