The Transformation of Families
We aren't really witnessing "the end of men," but we may be seeing the start of something new.
The End of Men and the Rise of Women, by Hanna Rosin, Riverhead Books, 310 pages, $27.95.
Enter "Hanna Rosin" into Google, and one of the top suggested searches will be "Hannah Rosin hates men." This is unfair, but it is to be expected when you write a much-read Atlantic story titled "The End of Men" and then expand it into a book called The End of Men and the Rise of Women. While a few feminists have fantasized about the literal extinction or near-extinction of males, Rosin, who has a husband and two sons as well as a daughter, entertains no such gendercidal visions. "The End of Patriarchy" might have been a more fitting, though less catchy, title.
Rosin's main argument is that the vast expansion of opportunities for women—due to feminism, the rise of the service and knowledge economy, and other forces—has altered male-female relations in countless irreversible and often radical ways. Men have been slow to adjust and often feel "adrift." But they too can join the revolution and lead happier, freer lives.
As least for now, Rosin, who draws on academic research as well as first-hand reporting, seems to find more "male decline" than male evolution. In lower-middle-class and working-class communities battered by economic upheaval, there are struggling single men seen as unmarriageable, and there are married couples "where the husband [is] stuck in place and the wife [is] moving ahead." An associate dean at the University of Wisconsin pharmacy school in Madison (with a student body two-thirds female) tells Rosin she sees a "lost generation" of men.
One of the more memorable characters in The End of Men is a pharmacy student Rosin calls Hannah, a former minimum wage worker and now a college graduate on her way to a high-paying job. Her boyfriend and former high school classmate "Billy" is an underemployed house painter who spends his spare time fishing and watching TV. While Hannah asserts that she loves Billy for "who he is" and that they "crack each other up," the relationship shows signs of strain. Hannah notes with some frustration that Billy "has no opinion at all" on planning their future; Billy scoffs defensively at her more sophisticated cultural tastes while Hannah bristles at his lack of respect for her attainments.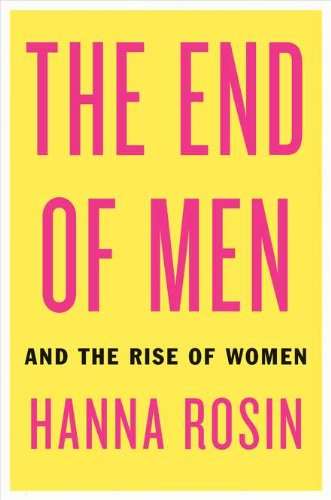 While Hannah and Billy plan to marry, other young women take a cynical view of marriage and romance. Bethenny, a single mother who runs a day care center and studies nursing, thinks marriage is appealing but a fantasy. Her daughter's father Calvin, sporadically employed in various "muscle jobs," would just be an extra mouth to feed.
The "new American matriarchy," as Rosin calls it, also has its success stories. There are towns like Auburn, Alabama, which has prospered by adapting to the new "feminized" economy, where women out-earn men and even factories have embraced a less macho ethos. And there are couples that have adapted to the female-breadwinner model on a personal level. The End of Men concludes with a new beginning: Bethenny's boyfriend Calvin decides to follow in her footsteps and enroll in a nursing class rather than one in mechanical skills.
On the other side of the class divide are the college-educated couples Rosin calls "the see-sawers." For them, the debate on a traditional division of roles vs. a 50/50 marriage is obsolete: Their arrangements are about shifting roles and priorities so that the division may be "sixty-forty or eighty-twenty or ninety-ten" at any given time—which, in theory, allows for both love and career fulfillment.
In practice, at least for the two female-breadwinner couples Rosin profiles at length, things are more complicated. The men feel hopelessly outclassed by the women. David, a magazine editor, feels threatened and resentful despite his progressive values. Stephen, a former mechanical engineer who attends law school in the evenings and watches his three-year-old son in daytime, is resigned to being a "mediocre house dude" to his "superstar" lawyer wife—but has negotiated a domestic contract that lets him do minimal housework and leaves his wife with a hefty second shift. Stephen also observes to Rosin that "nothing good comes from being a man" and that he hopes their second child is a girl, "creative and good."
Other parts of the book deal with topics ranging from rising female violence to women rising (or not rising) to the corporate top to boys falling behind in schools; Rosin's discussion of these topics is generally fair-minded and thoughtful.
A particularly provocative section deals with casual or semi-casual collegiate sexual encounters outside the context of dating. While many conservatives (and others) deplore the "hook-up culture" as a sexual jungle in which romance-seeking women are used and abused by predatory men, Rosin points to studies that paint a very different picture: Women enjoy their hook-ups as much as men do, and are only slightly more likely to hope that a hook-up will lead to "more." Students are not wildly promiscuous, and three-quarters have been in steady relationships. Yet it is often the women who avoid such relationships, seen as too much of a drain on time and energy they'd rather invest in career preparation. In one study, "some even purposely had 'fake boyfriends' whom they considered sub-marriage quality" to avoid marital pressures. In the end, most of these women (not unlike the traditional male playing the field before settling down) begin to long for more meaningful and permanent relationships—which they usually find, rather than being punished for their sins with loneliness and misery.
Unfortunately, this chapter has almost no male perspectives in this sexual environment. Rosin claims that some young men retreat into partying, drinking, casual sex (or porn), and video games, and she argues that these men, not the women frustrated by the shortage of good men, are the real losers in the gender war, likely to drop out of college and get stuck with dead-end lives. But Rosin's account sheds little light on how common this phenomenon is, other than to quote a Stanford psychologist's alarmist—and evidence-free—claim that "many" young men have their brains "digitally rewired" by porn and videogames to the point of losing the capacity for actual relationships.
This omission may be connected to a larger problem with The End of Men, perhaps related to its title. Men who react to the new sexual order with confusion, resentment, or self-loathing get much more attention than those who take it in stride (such as Andrew, an IT specialist married to pharmacy student who looks forward to being a stay-at-home dad). Rosin writes that her survey did not find enough samples of such men to warrant focusing on them, since it's not clear whether they amount to a trend; but that does not stop her from focusing on a particularly sexually adventurous woman who she recognizes is probably atypical.
Rosin may also overestimate women's flexibility when it comes to men and male roles—even though she herself notes signs of such inflexibility. Lower-middle-class women tend to reject low-earning men as poor marriage material; high-earning women married to non-alpha males often end up resenting or despising their husbands. (Rosin's chapter on female violence even includes a frightening example of such resentment escalating into abuse and then murder. Ironically, the woman's defense tried to portray her as an abused wife unbearably stressed by her husband's failings as a man.) Rosin herself admits being "startled" by the sight of a stay-at-home dad volunteering at her preschool. Perhaps the truth is not just that women are more flexible, but that both women and men are more flexible about norms of femininity than norms of masculinity.
There are other omissions too. Rosin does not mention the ways in which feminist-era rules sometimes tilt against men and judge them by old-fashioned and rigid standards. Hook-ups may be roughly egalitarian, but sexual assault and sexual harassment campus codes are far more likely to be used against men when an alcohol-fueled miscommunication takes place. Women, as Rosin notes, are increasingly the aggressors in domestic violence. (Rosin's numbers are rather fuzzy and confusing, but various studies indicate that about 40 percent of victims may be male.) But most government-funded domestic violence programs are based on the presumption of female victimhood. Divorce courts still largely fail to treat fathers as equal parents. (A valuable addition to the book would be a study of fathers' rights groups, with their fascinating mélange of men embittered by the loss of male authority and "new men" who want equality for the nurturing father.)
Fuzzy data, actually, is another recurring problem with The End of Men. Rosin's critics, such as the University of North Carolina sociologist Philip Cohen, point out that she overstates the decline in traditionally male jobs and the increase in traditionally female ones, even if she is correct about the general tendencies. And her claim that current trends point to a nearly inevitable future in which female-breadwinner marriages are the majority rests on the easily rebuttable presumption that present-day trends can be extrapolated indefinitely.
Some of the polemics against Rosin, on the other hand, battle a straw woman—wrongly implying, for example, that she denies or ignores the barriers and prejudices that women still face in the labor market (a topic to which she actually devotes extensive discussion). And despite its flaws, Rosin's account of the state of the male-female union in America—and, in one eye-opening chapter, in Asia—is worth reading, both for its reportage and for its insights, even if you'll want to take some of her statements with a grain of salt.
It also offers another point to ponder. In the end, women's greatest strides toward empowerment and equality have not come from a beneficent government—despite years of efforts to get more women into the very blue-collar jobs that have now become the bane of manhood—but from market forces, including traumatic and disruptive economic upheavals. Anti-discrimination laws undoubtedly helped women take advantage of their new opportunities, and they promoted widespread acceptance of the view that women's place is in the workplace. But the dynamic forces of the economy created those opportunities. If flexibility and adaptability are the key principles of the new woman, they are also, after all, the key principles of the market.