Ralph Nader's Advice To Gary Johnson
The second to last third party debate before Election Day featured four candidates with high expectations and steep challenges.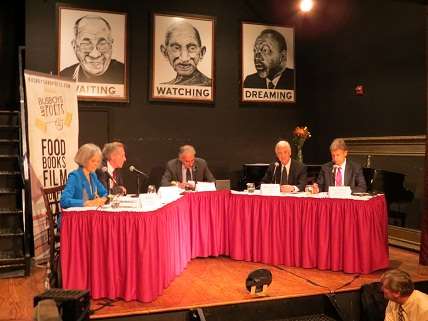 WASHINGTON—The second to last third party debate before Election Day featured four candidates with high expectations and steep challenges.
Victory on Tuesday is an essentially impossible goal to reach for Justice Party nominee Rocky Anderson, a former mayor of Salt Lake City, as well as for Constitution Party nominee Virgil Goode, a former Virginia congressman. With near nationwide ballot access, Libertarian nominee Gary Johnson, a former two-term governor of New Mexico, and Green Party nominee Jill Stein, a Massachusetts physician, have a very narrow path to reaching 5 percent of the popular vote.
Debate moderator Ralph Nader, a five time presidential candidate, knows a thing or two about aiming for that elusive 5 percent. Seated at the center of the roundtable, Nader presided over the debate as a senior statesman of sorts for modern third party candidates. His 2.74 percent of the popular vote in 2000, when he ran on the Green Party line, remains the high-water mark for third party candidates in the 21st century.
"If they just want to go for 5 percent it argues for campaigning intensively in a few states where they're reasonably popular or where the polls show they can get more. I managed to have an obligation I imposed on myself to campaign in all 50 states every time. Only candidate to do so but you don't maximize your vote that way. If I just campaigned in California, New England, New York, I probably would have got more votes," Nader said.
Johnson has avoided the Nader 50 state approach and campaigned in several libertarian-leaning states like Colorado and New Hampshire while repeatedly visiting states like Ohio and Texas where the Libertarian Party is well organized. When Nader ran in 2000 the Greens were not organized the way the Libertarians are today in key states.
Since 2000 Nader has eclipsed the Libertarian candidate on the ballot, once as a Green and twice as an independent, but that streak now ends as Nader is not running this year. Nader chalks that success up to his reputation as a consumer advocate rather than as a failing of the Libertarian candidates during previous cycles.
"It's just amazing how many people would have liked to vote for me if they thought I could win but because they don't think third party candidates have a chance to win the votes dwindle away in droves just weeks before the election," he lamented.
Johnson, who showed a more aggressive and snarky side in the debate when sparring with the left-leaning Anderson and Stein, said that Nader gave the candidates a brief pep talk before the debate.
"He said he's still involved in litigation (from his previous runs) and that he was very impressed that we got on the ballot in Pennsylvania," Johnson said.
Johnson and Stein are scheduled to participate in the final Free & Equal debate tonight at RT Studios in Washington. The debate will be broadcast and streamed live. Johnson will greet voters tomorrow at the poll here in the District before flying to Albuquerque for his election night party.