Expect Fewer Full-Time Workers Thanks to ObamaCare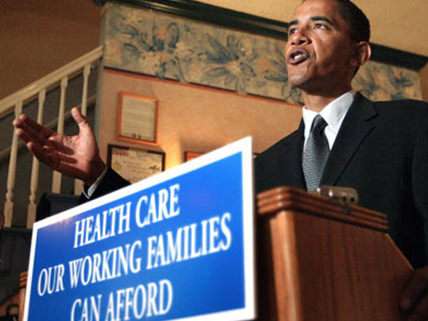 The Department of Unintended Consequences has released its latest report on President Obama's health care law. Last month, J.D. Tuccille noted an early report that restaurant group Darden, which operates the Olive Garden and Red Lobster chains, was looking into ways to cut back the work hours for many employees in order to avoid ObamaCare's employer penalties.
It seems Darden isn't the only big employer thinking this way. The Wall Street Journal reports that a number of large service industry employers — including retail stores, restaurants, and hotel chains — have either begun limiting hourly worker schedules to 30 hours a week or say they are about to do so. That's because starting in 2014, ObamaCare requires employers to either provide health insurance for hourly workers who hit the 30-hour threshold or pay a fine of at least $2,000 per uninsured worker.
This is likely to affect a lot of workers across the country. The Journal reports:
Pillar Hotels & Resorts this summer began to focus more on hiring part-time workers among its 5,500 employees, after the Supreme Court upheld the health-care overhaul, said Chief Executive Chris Russell. The company has 210 franchise hotels, under the Sheraton, Fairfield Inns, Hampton Inns and Holiday Inns brands.

"The tendency is to say, 'Let me fill this position with a 40-hour-a-week employee.' "Mr. Russell said. "I think we have to think differently."

…Home retailer Anna's Linens Inc. is considering cutting hours for some full-time employees to avoid the insurance mandate if the health-care law isn't repealed, said CEO Alan Gladstone.

Mr. Gladstone said the costs of providing coverage to all 1,100 sales associates who work at least 30 hours a week would be prohibitive, although he was weighing alternative options, such as raising prices.
So thanks to ObamaCare, these workers will earn less. And they won't get employer-sponsored coverage either. Now, they may have access to subsidized insurance through the law's health exchanges. But if recent projections for premium prices in California's exchange are any indication, individual insurance premiums are going to rise substantially thanks to the law. So they'll be working less and earning less while purchasing mandatory insurance through exchanges that cause the price of insurance to increase.