Happy 85th Birthday, Steve Ditko!
Comic book artist Steve Ditko turns 85 today. He is at the very least the second most widely read Objectivist creator of all time.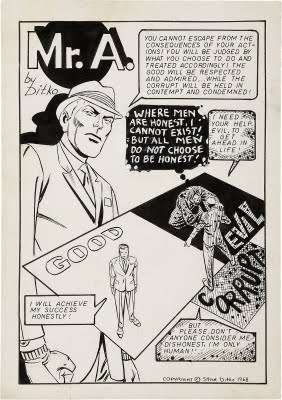 From his co-creation of Spider-Man and Dr. Strange (in which his Objectivist freak flag was largely in check, as he worked with writer Stan Lee) to his later, more personal work such as Mr. A, he's been one of the greatest, most loved, and most original cartoonists of our time.
I wrote about a Ditko art-bio Strange and Stranger at Reason back in February 2009.
I wrote about how Watchmen's Rorschach was a tribute to Ditko's Objectivism when that OK film about that wonderful graphic novel came out in March 2009.
Peter Bagge in our November 2009 issue listed Ditko's "Mr. A" (as in A is A, Rand fans) as one of the great freedom-oriented comics.
Julian Sanchez here in 2005 noted Ditko's The Question bringing pop Objectivism to kid's cartoons.
A Ditko fan site, and a Ditko blog that will keep you up to date on his more current work.
A great collection of 1950s Ditko mystery/suspense comics.
Mr. Ditko, as your Mr. A said, the good you did "will be respected and admired" as long as comics are read.