Bloomberg Endorses Obama, 1994, 2003 Versions of Mitt Romney
Said in 2008 elected officials shouldn't tell people who to vote for and declined to make any endorsement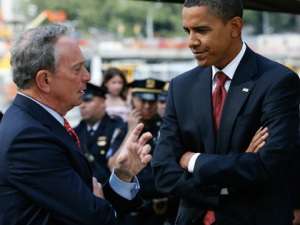 Michael Bloomberg made some news yesterday, endorsing Barack Obama for president. While the New York City mayor called Obama's four years in office "disappointing," he tied his endorsement to Obama's perceived strengths on climate politics in the wake of Hurricane Sandy, which Bloomberg blamed on a changing climate. Bloomberg added that he'd endorse Mitt Romney, who "would bring valuable business experience to the Oval Office," if the 1994 or 2003 version were running.
Eight years ago, when Bloomberg was a first-term Republican mayor and not a third-term Independent one, he endorsed George Bush at a convention in New York City, pinning that endorsement on "leadership" too, and specifically, in the wake of 9/11, leadership on national security. Bloomberg didn't make any endorsement in 2008, saying at a press conference in February that "I don't think as an elected official that I should be expressing my personal views as to who others should vote for."
A Democratic town by something like a four-to-one margin, the city hasn't had a Democratic mayor in nearly 20 years. Bloomberg won an unexpected victory in 2001 after a surge of support for then-mayor Rudolph Giuliani. A life-long Democrat, Bloomberg ran as a Republican to avoid the crowded primary on the Democratic side. The only other candidate in the 2001 Republican primary was the former 1970s Democratic congressman Herman Badillo. Bloomberg won re-election handily by nearly a 20 point margin, though in a city of 7 million that translated to just about 753,000 voted. Outspending his Democratic opponent 10 to 1 in 2009, Bloomberg only eked out a win by 50,000 votes in an election cycle that saw President Obama campaign for losers Jon Corzine in New Jersey and Martha Coakley in Massachusetts but not Bill Thompson, who brought Bloomberg so close to a loss, but had to settled for running ads where he touted Obama's tepid endorsement. That election, of course, was before the ginned up outrage over Citizen's United and campaign spending, so the idea of the president endorsing someone with such a huge cash advantage wasn't as cognitively dissonant as perhaps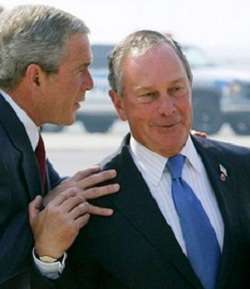 it might be today.
The city's last popular Democratic mayor, meanwhile, Ed Koch, has re-upped his endorsement of Obama. He endorsed Bush in 2004 along with Bloomberg. Incidentally, Ed Koch defeated an incumbent Democrat in the 1977 mayoral primary largely thanks to the city's blackout that summer.