Post-Sandy Price Gouging by Uber?: Econ 101, in Twitter Form
Mass transit is shut down in New York City thanks to Really Big Rainstorm Sandy, and getting around town is much tougher than usual. Luckily, Uber—a cool service that lets people summon black cars from their smartphones—is up and running. The company always uses variable pricing, which means that at times when demand is high, like New Year's Eve, you pay more for a car. The company instituted "surge pricing" in the city today since demand is unusually high.
Users complained about the price bump, accusing the company of "price gouging," but Uber responded with some sensible economics.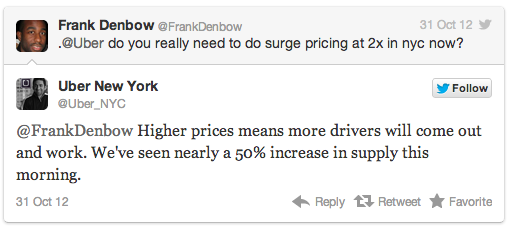 And Uber is not alone in dropping some Econ 101 on the storm weary populace. The Wall Street Journal asked readers to "Hug a Price Gouger" this morning. Heck, even generally lefty blogger Matt Yglesias went on the record with his "Case for Price Gouging" during storms as a way to allocate resources.
But then Uber backed down. Here's the rest of that exchange: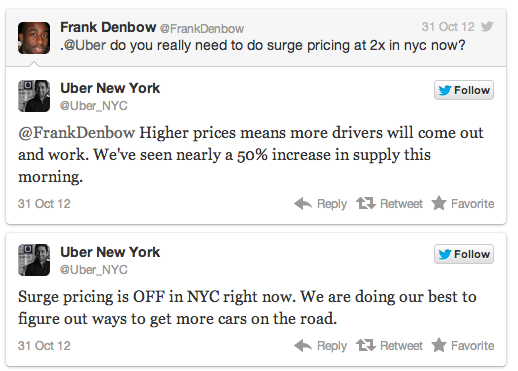 In an email to TechCrunch, which also grabbed the tweets above, the CEO of Uber said the company would still be doubling drivers' fees, just not fares.
"There are huge losses for the business in doing this initiative, but will do it as long as we can today while we figure out more sustainable ways to keep supply up while the city is in need."
But raising prices is the sustainable way to keep supply up. Uber knows this. Uber's whole model is built on this insight. What a shame that they think good P.R. requires them to deny basic economic fact.
That said, you can't blame the company for choosing not to fight this fight. They've had a rough year. The New York taxi cartel has done its darnedest to put the squeeze on Uber, which operates in 20 cities, including blocking the part of their service that allowed users to hail yellow cabs as well as the black for-hire private cars. D.C. has tried similar crackdowns on the black car service. But as Reason TV producer Jim Epstein learned the hard way, the D.C. taxi commission doesn't mess around: