Romney Is (Just Barely) Leading the National Polls, But Obama Is Still the Favorite to Win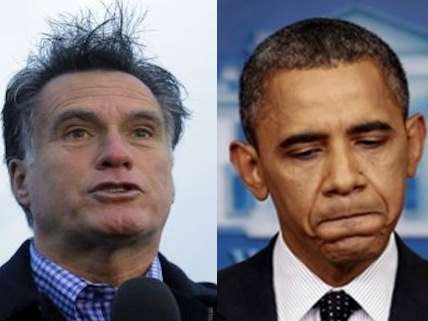 Mitt Romney has a had a great month. On September 30th, the RealClearPolitics presidential polling average showed him losing to President Obama by 4 points. Now it shows him ahead. At just 0.7 points, it's not a big lead. But he's led the president in RCP's average for the last two weeks. And his rise is confirmed by other polling analyses: Pollster.com's aggregate poll number shows a similar rise over the past several weeks, and also currently has him in the lead, albeit by just a single tenth of a point.
Yet despite the tight race, Obama remains the slight favorite to win on election day. That's because even though Romney seems to be holding a very small lead in the national polls, Obama has a solid Electoral College advantage. This has obvious implications for the race. It's also going to shape the way the next president governs.
Polling in battleground states, as well as various election-prediction models, all suggest that President Obama will have a somewhat easier path to Electoral College victory than Mitt Romney. Most analyses suggest that there is a very strong chance that the election will hinge on Ohio. If Mitt Romney loses Ohio, he'll have to come very close to sweeping the table in the rest of the swing states. And right now, most polls show that Obama has a narrow but consistent lead in the Buckeye state. Of the three Ohio presidential polls published yesterday, Obama led in two (Time and SurveyUSA) and was tied with Romney in one (Rasmussen).
I would say we'll have to wait until election day to find out, but we might not even know then. As ABC News reports, if it does come down to Ohio, and the race there is quite close, it may take a week or more to sort of the final tally:
The year, Ohio's Secretary of State office decided not to wait for people to request absentee ballots and instead sent the applications to 6.9 million of the state's 7.9 million registered voters. So far, more than 1.4 million voters have requested absentee ballots and more are expected to be received before the Nov. 3, deadline.

So far, 618,861 absentee ballots have been cast. That number will of course increase as election day nears, but more than 800,000 ballots are still at-large.

If voters have been sent an absentee ballot, but don't return it by Nov. 5, they can still go to the polls and vote on election day, but they'll be given a provisional ballot. And under state law, these ballots cannot be counted until Nov. 17.

In 2008, there were more than 200,000 provisional ballots to be counted.

The other reason for a potential delay in Ohio is a function of the calendar. Ohio's absentee ballots must be postmarked by Nov. 5, but they can arrive as late as Nov. 16 and still be counted. This means that votes will likely still continue to trickle in after Election Night, and if the results are very close, those ballots could also shift the outcome.
The closeness of the race suggests some intriguing possibilities. It's possible, for example, that we'll end up with an Electoral College tie. It's also possible that, as in 2000, the candidate who wins the popular vote will not win the Electoral College vote. Both of these would inevitably complicate the next administration's ability to pursue its own agenda.
But even if the candidate who wins the popular vote also wins enough electors to take the White House, it's going to be very, very close unless something unexpected happens. Indeed, it may be so close that the actual outcome of the election is decided by Ohio college football teams. Which means that the next president isn't going to be able to easily claim to have a mandate, a clear stamp of public approval on his policy agenda. Instead, he'll have eked out a huge victory on a tiny margin, with roughly half the public having voted for his opponent, and, judging by most reports, his own supporters more relieved that the other guy didn't win than thrilled about their candidate taking the prize. For now, in other words, it's a political horse race. But pretty soon it's going to be a governing complication.