Two Remaining Pussy Riot Members Sent to Prison Camps Once Used as Gulags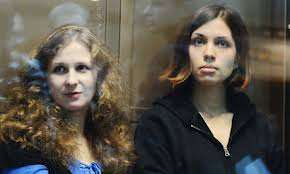 The two remaining members of Pussy Riot convicted of "hooliganism motivated by religious hatred" have been sent to prison camps. The move comes almost two weeks after one of the members originally convicted, Yekaterina Samutsevich, was freed after her legal team successfully argued that she should not serve the same sentence as the other two members. Samutsevich is now taking to case to the European Court of Human Rights.
Maria Alyokhina has been sent to the Perm region in the Ural Mountains, once the home of over 150 camps in the Soviet Union's vast Gulag apparatus. Nadezhda Tolokonnikova has been sent to Mordovia, south east of Moscow, a part of Russia with a similarly grim recent history.
The Australian Herald Sun summarized the conditions facing the two women:
The city of Perm, the region's capital, is about 1400 kilometres from Moscow, while the regional capital of Mordovia, Saransk, is about 640km from Moscow.

The Perm region, where temperatures can fall as low as minus 50 degrees Celsius in winter, housed Stalin-era labour camps, one of which has been turned into a museum about the history of political repression.

Mordovia is a region dotted with lakes that is chiefly known for its prison camps dating back to the Stalin era. In the 1930s and '40s, the prison population here numbered 23,000 prisoners, according to the regional prison service's website.

The region now has 17 prison camps, the prison service said.

The choice of distant camps appears to be deliberate to make it harder for the public to follow what happens to the women, rights activist Lev Ponomaryov told Moscow Echo.
A twitter account set up for the group (@pussy_riot) sent out the following:
Nadia was on the weekend special flight was transferred to Mordovia, and Masha—in Perm. This is the most brutal camps of all possible options.
Russia has come under strong international criticism over the case, and the two-year sentences handed down were significantly less disproportionate than they could have been. Moving Maria and Nadezhda to such harsh environments might be a way for officials to hand down a comparatively lenient time in prison while still inflicting a severe punishment.
It is a shame that Russia will almost certainly not come up in tonight's Presidential debate. For better or worse Russia is going to play an increasingly influential role in global politics. It might be worth Obama and Romney giving it at least a passing mention.