Libertarian Gary Johnson Tries Again to Sue His Way Into Presidential Debates
Yesterday the Gary Johnson campaign filed its latest attempt to sue his way into the presidential debates. He has a novel strategy this time, not the (very unlibertarian) antitrust tactic he tried before.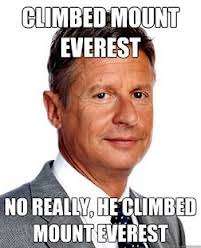 His campaign is claiming that, by the standards that President Obama and Mitt Romney are judged against (their polling numbers against only one other contender) that he fully satisfies the official qualification requirement of polling over 15 percent support. He doesn't do so when matched against both of his major party opponents, but does, his suit claims, do so against Obama alone.
The suit asserts that in five different recently conducted polls in which Johnson is up against Obama alone, he exceeds 15 percent support. Johnson got as high as 45.8 percent in a late September Toluna poll (and as low as 25.9 percent in an early October Research Now poll, but still above 15.)
As the suit against the Commission on Presidential Debates argues, "Governor Romney was included in the debates based on polls that were head-to-head between President Obama and Governor Romney. Polls comparing Governor Johnson head-to-head with President Obama similarly meet the criteria."
The suit is seeking injunctive and compensatory relief and a jury trial. It claims, if I'm understanding the legalese correctly, that the Commission on Presidential Debates announcement of its criteria for candidate inclusion constitutes an implied contract that Johnson relied on in his huge campaign expenses in order to meet those criteria. Thus, the Commission's failure to include him is a breach of contract both specific and implied, as well as unlawful discrimination against Johnson because of his party affiliation.
The suit is demanding "specific performance" (that is, that the Commission actually allow Johnson in the last debate) and if that fails, the damages he seeks for being robbed of the exposure of the debates will, the suit says, be "likely approaching millions of dollars" since he is losing "several hours of prime time television coverage on all major American stations…tens of thousands of social media mentions, thousands of print articles and hundreds of radio station mentions."
The Daily Caller on this suit. I wrote a couple of weeks back about how and why Johnson ought to win the presidential election.