Federal Government Now Paying Hospitals to Make Patients Happy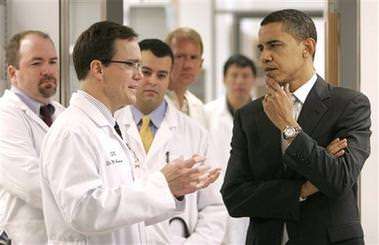 They say happiness can't be bought. But that's not going to stop Medicare's payment technocrats from trying! The Wall Street Journal reports that the seniors' health program is tying a billion dollars worth of payments to making patients happy:
At Grady Memorial Hospital here, doctors are being taught to stop interrupting patients while they are speaking. Nurses recently got hand-held phones so patients can reach them instantly. New bedside comforts include cable sports channel ESPN and a menu featuring wild salmon.

Grady is making these changes in response to a shift in how the federal government pays hospitals for treating people on Medicare, the federal health-care program for seniors.

Nearly $1 billion in payments to hospitals over the next year will be based in part on patient satisfaction, determined by a 27-question government survey administered to patients. Hospitals with high scores will get a bonus payment. Those with low ones will lose money.
It's nice that Medicare's overseers are concerned with patient satisfaction, which is not trivial. But these sorts of fiddly payment schemes almost always end up raising more questions than they answer. Should we be paying for patient satisfaction? For doctor credentials? For efficiency? For health outcomes? And if so, what criteria should we use to measure the relative success of any hospital or provider organization at meeting these goals? Furthermore, how much should we actually pay for any of these things? How much is it worth to doctors? To medical administrators? To patients? The answer to most of these questions is: Who knows?
It's hard enough for local providers to determine market-clearing prices that balance services and costs in sustainable proportions. It's impossible for a centralized board of payment decision makers overseeing a vast federal bureacuracy to know. Organizing this sort of information about the overlapping interests of buyers and sellers in complex service environment is what markets are extremely good at. And for that you need price signals, not price and payment controls. But rather than figure out ways to allow markets to help balance these interests, the federal government has instead spent the last four decades experimenting with various payment tweaks like this one, most of which have failed.