It's Official: Gay Couples Same as Straight Couples When Weighing Immigration Deportation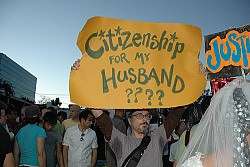 On Friday, an August letter endorsed by 80 House Democrats, backed by Minority Leader Nancy Pelosi (CA), that urged the Department of Homeland Security (DHS) to classify gay couples — Defense of Marriage Act (DOMA) be damned — as immediate family and consider when making decisions about immigration finally got its answer. As Reason 24/7 reported earlier today Big Sister DHS Director Janet Napolitano said yes, and an official order will go out that having a gay spouse is the same as having a heterosexual one in terms of weighing whether or not someone should be deported.
One of the qualities that undocumented workers looking to stay should have, in order to be "low priority" for resources being put toward deportation, under Immigration and Customs Enforcement's June, 2011 directive, is indeed family or community ties, so this may do some good and help keep couples together. Other factors to consider under the prosecutorial discretion memo are immigrants' age of entry into the United States (under 16) and obviously not having ever committed a violent or serious crime.
DHS had previously verbally promised to treat gay couples the same, but the Democrats, particularly Pelosi, were looking for something more substantial than that.
After Napolitano's announcement that the instructions will be formally written out, Richael B. Tiven, director of the activist group Immigration Equality said:
"This is a huge step forward,Until now, LGBT families and their lawyers had nothing to rely on but an oral promise that prosecutorial discretion would include all families. Today, DHS has responded to Congress and made that promise real."
In the meantime, a new Supreme Court session just begun, the justices will mostly likely eventually hear the challenges to DOMA raised by several different parties, including activist group Immigration Equality. Immigration Equality's suit was filed in April in New York Discrict Court on the behalf of five gay, international couples who were unable to sponsor their spouses for green cards. Blesch v. Holder, as in Attorney General Eric, who is named along with Napolitano and other government officials, argues that Section 3 of DOMA is a violation of the 14th Amendment's equal protection. The Obama administration promised to stop defending DOMA back in 2011, but the law has continued to plague some couples.
And for immigrant activists worried about a sudden Romney upset, at the very least it seems he promised in a Monday Denver Post interview not to mess with Obama June executive order which gives a two-year stop-gap for deportations of young folks who didn't choose to illegally immigrate. Romney says his administration's immigration policy would be official long before those two years were up anyway.