The Streetcar Swindle
It's time to rethink America's retrograde love affair with trolley technology.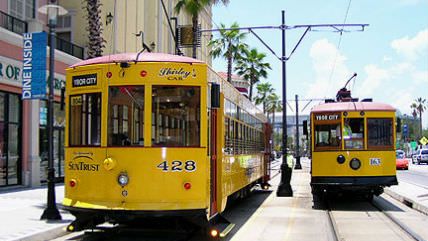 A person born in Tampa, Florida, in 1888—the year Frank J. Sprague produced the first successful electric streetcar—would live his youth knowing only Sprague's invention as a regular means of mechanized transport. He would marry in a church within earshot of the streetcar clang and take his own young children on trolley trips downtown.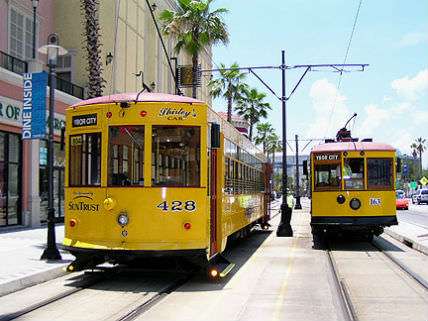 By the man's 40th birthday in 1928 he would almost certainly have stopped riding the streetcar, perhaps even cursing it from behind the wheel of his automobile for holding up traffic. By the time he retired most of those old machines would have been sold for scrap. Yet if he lived to be 100, near the end of his life the man would have heard the first stirrings of regret from a nostalgic nation longing for those pokey old trolleys to return.
There are currently 16 streetcar lines operating as public transit in the United States, but depending on how you count there are as many as 80 cities with streetcars in the planning or development phase. Far from the dominant form of urban transport they once were, streetcars have become prestige projects celebrated for their history, beauty, and alleged ability to promote development.
But the sad secret is that streetcars of all descriptions and vintages are at best modestly successful transportation projects, at worst expensive objets d'art that very few people use. Demand for the vehicles is driven not by the public but by the dreams of land-use planners and downtown boosters who imagine that aesthetically pleasing vehicles lumbering in slow circles through walkable areas will somehow prompt a boom in economic activity. Streetcar booster Gloria Ohland has often written that streetcars should be considered "economic development projects with transportation benefits."
Yet the fantasy that people will travel or move to a particular location purely for the pleasure of tootling around in a trolley has consistently failed to materialize. Because the urban circulator is not tailored to the needs of modern city dwellers who use mass transit to get around, there is no natural constituency to ride them. The result: Many communities get stuck with an eternal loop of empty, expensive white elephants.
Streetcar Heyday
The streetcar—typically a vehicle on rails, powered by overhead wires, and comprised of a single car, although that car may be elongated with accordion-like hinges—arrived as perhaps the second greatest revolution in transport. Before the car's electric motor, the preferred engine of urban vehicles was the horse, which needed food, water, and rest, and whose tailpipe emissions stood in piles between the tracks. Horses were expensive and brought bad publicity when they died en route.
Once Sprague broke with the horse, urban transport could carry people quickly, cleanly, and inexpensively from the crowded and polluted city center to the virgin lands of the nearby countryside. You would have to go all the way back to the invention of the wheel, when stone and timber could first be moved relatively long distances, to find a transport technology that made a more significant impact on the lives of regular folk.
By 1910 American cities had emptied into the surrounding countryside. Urban areas were segmented into warehouse and factory districts around rail yards, with a fashionable central business district for shopping and professional work, and suburbs that were homogeneous enclaves of class and ethnicity, all of them interconnected by networks of streetcar routes. For a nickel people could commute into the city for work, shopping, or entertainment on vehicles that traveled as fast as 30 miles per hour but averaged about 12. In all, the glory days of the streetcar lasted a quarter of a century.
Despite modern nostalgia for the streetcar era, the so-called "traction trusts" that owned the systems were widely considered corrupt and greedy. Riders were eager for new ways to get around. The costs of labor and materials more than doubled during World War I, while fares, written into city-granted charters in the 1890s, were locked at a nickel. Tracks and rolling stock entering the fourth decade of use in many cities needed upgrades and repairs at a time when the traction trusts were broke yet remained on the hook for their own track, rolling stock, and operating expenses. Meanwhile, the faster and more individualized automobile was beginning to take off, helped by federal and state governments that funded road building.
In 1910 GM, Firestone, Standard Oil, Philips Petroleum, and other companies pooled their resources to form National City Lines, which purchased more than 100 streetcar systems and replaced them with bus routes. The trolley lines were a bargain because they were failing, and buying them was simply good business for bus companies, despite later claims of conspiracy. By the mid-1920s developers were no longer concerned about getting rail extended to their subdivisions, and after World War II transit use fell off a cliff.
But back in Europe, a transformation of street-level rail transit was under way. While Americans were abandoning their cities for suburbs, Germans were busy reconstructing war-torn urban cores and looking for less expensive alternatives to the underground metro.
The result was called stadtbahn, or city rail, which combined the best parts of the streetcar (strassenbahn) and underground (U-bahn). Stadtbahn ran at street grade but was isolated from other traffic; had multiple cars, each with one or two double-width doors that would all open together at platforms for passengers to board and alight; and relied on fares that were paid off the vehicle, checked by roving inspectors. Stops—stations really—were spaced between a half mile and a mile apart. It was fast, efficient, relatively inexpensive, and entirely new to the transit world. "These were truly vehicles of mass transportation," says Gregory Thompson, professor of transportation planning at Florida State University and chairman of the Transportation Research Board's Light Rail Committee.
"Three features of light rail became apparent to North American [light rail transit] proponents after the reconstruction of Germany," Thompson says. "The vehicle must be separated from traffic through medians or running on the other side of the sidewalk from automobiles. Stops, as with an underground, should be at intermediate distances, not as frequent as bus stops." Rapid entry and exit of the vehicles was paramount. "You have to use all available doors and take the driver out of the [payment] loop."
In the late 1970s North American cities began importing the German adaptation of the American streetcar, first in Edmonton (1978) and then in Calgary (1981). San Diego (1981) was the first American city to construct what was now called light rail transit.
Around this time American construction of heavy rail, which began in New York and Boston in the late 19th century, effectively wound to a close with subways in San Francisco, Washington D.C., and Atlanta. (The main exception was a late-breaking underground system in Los Angeles, first brought online in 1993.) Other U.S. cities, such as Denver, Houston, Minneapolis, St. Louis, and Charlotte, addressed their transit needs with the German model.
Then, like a toilet-trained toddler who begins wetting his pants again when a new baby sibling arrives, America forgot everything it had learned from German light rail. Newer streetcars were built to operate in mixed traffic, with frequent stops, using only the front door for boarding while the driver collected fares. "The [contemporary] streetcar is like a bus on rails, but it has no advantages over a bus," says Thompson. "An effective light rail or streetcar has to be operated like a subway," but most modern streetcars are not.
Bay City Blues
Tampa, Florida, has followed the streetcar's parabola almost perfectly. At its peak in 1926, the port city (which then had a population of 100,000) had a network of 190 vehicles that delivered a whopping 24 million trips that year across 53 miles of track and 11 routes. The streetcar eventually disappeared for several decades, only to return in much different form in 2003.
In 2006 Tampa's 578,000 residents took just 520,000 trips on the new, $63 million TECO trolley, or less than one each. Ridership was down 45,000 from the previous year. With an operating speed slower than eight miles per hour, the TECO trolley is in every way a transit mode worse than a bus. But unlike in previous generations, transit is not the streetcar's purpose.
A 2007 Wall Street Journal article titled "A Streetcar Named Aspire: Lines Aim to Revive Cities" described TECO as a "dud" but noted that the project's proponents attributed $450 million of development to the route, which at that point ran for 2.4 miles. One skeptical Hillsborough County commissioner quoted in the story said the streetcar "goes from no place to nowhere." He was not exactly right: The route runs from historic Ybor City to the Florida Aquarium, then Channelside Drive (where cruise ships arrive), then on to the Tampa Convention Center, terminating at the edge of downtown. So it goes places, just not where any resident needs to go.
On weekdays, TECO does not make its first trip until noon. Is that any way to run a transit system? If you believe the Federal Transit Administration (FTA), the answer is "Why not?" Here is how the FTA describes its "urban circulator" program: "Systems such as streetcars and rubber-tire trolley lines provide a transportation option that connects urban destinations and fosters the redevelopment of urban spaces into walkable mixed use, high density environments." Note that the agency carefully omits what you might otherwise expect to be both the purpose and the most basic metric of any transit project: ridership. How can it be that the number of trips generated by a project that cost tens or even hundreds of millions of taxpayer dollars is not the central consideration?
Powering the Streetcar Craze
Nostalgia is the main power source of the streetcar craze. How else do we explain the use of historical reproductions and expensive old Birney and PCC streetcars in so many systems? Still, these projects roll on a pair of rails called "downtown development" and "tourism."
The first contemporary streetcars were laser-focused on economic development. When San Francisco began renovating its famous cable cars in 1982, the local Chamber of Commerce, worried about losing visitors, pushed for an alternative historic transit service for tourists. Muni, the municipal transit system, was happy to oblige. Using brightly colored, Art Deco PCC cars, the summer Trolley Festivals began in 1983, setting a national template. Historic streetcars popped up in tiny Galveston, Texas, in 1988 and then Dallas in 1989. The Memphis Trolley, featured in the Tom Cruise movie The Firm, joined the mix in 1993. Tampa and Little Rock opened vintage trolleys in 2003 and 2004, respectively.
While the earlier contemporary streetcars were primarily focused on tourism, the Portland, Oregon, streetcar gained fame as the first "modern" streetcar in the United States, becoming the model for downtown circulators in Atlanta, Los Angeles, Washington, D.C., and Cincinnati. But Portland is a hard act to follow. To urbanists, Portland is Valhalla and Mecca combined. Freeway revolts, regional planning organizations, bike sharing, greenways, urban growth boundaries, and wildlife corridors are all urban planning concepts that were either born or incubated in Portland. The city's Eastside MAX light rail opened in 1986. For Portland, the streetcar, which has been credited with between $2.3 billion and $4 billion of development along its route, was a victory lap by the champion of 20th-century American urbanism. But that isn't necessarily the best model for the rest of the country.
The urban street cred of Portland notwithstanding, even there the streetcar is not really mass transit. The City of Portland owns the 3.9-mile-loop streetcar, not TriMet, the transit agency that otherwise runs buses and light rail for the Portland area. The Portland Streetcar's raison d'être is, like the Tampa TECO line's, downtown development and tourism, not transportation.
It has been more than 40 years since Petula Clark bayed about the joys of downtown in her 1965 hit of that name, by which time central business districts (CBDs) were already well on their way to irrelevance. Transportation was the main reason for the decline. Federally funded road projects such as the Interstate Highway System were supposed to save downtowns by providing a ready means to get people to the CBD for work, shopping, and recreation. Instead, freeways became a means to get from the CBD as shopping and recreation followed middle-class rooftops out to the suburbs. Professional jobs largely remained downtown, but central cities hollowed out at night.
In response, downtown boosters and city planners started looking for something that would bring people back to the central business districts. The streetcar is only the most recent incarnation of this effort. Beginning in the early 1970s, a number of cities closed downtown streets to automobile traffic in an attempt to create vibrant pedestrian malls where people could enjoy the urban space, easily crossing the street to destinations on the other side without fear of being run over by a car. Sheboygan, Wisconsin (Harbor Center, 1972), New London, Connecticut (Captain's Walk, 1973), Tacoma, Washington (Broadway Plaza, 1974), and Scranton, Pennsylvania (Wyoming Avenue Plaza, 1979) were a few of the many cities that unsuccessfully pioneered this method of luring people downtown.
The pedestrian mall generally did not work out well. The exceptions include Aspen, Boulder, and Denver, Colorado; Boston, Massachusetts; Madison, Wisconsin; Charlottesville, Virginia; Minneapolis, Minnesota; Burlington, Vermont; and San Antonio, Texas. All of these cities had an already strong downtown, a university presence, or both, except for San Antonio, which turned a storm water retention canal into a spectacular, singularly attractive urban water feature (having the Alamo nearby probably didn't hurt).
Tampa, Florida, may be the poster child for get-'em-downtown policies. I saw the comedian Gallagher, the watermelon guy, in 1991 at the Tampa Bay Performing Arts Center. The only line I remember from this performance was, "Tampa has the world's largest collection of empty buildings." It drew a laugh from audience members who well knew the many attempts to reinvigorate a downtown that remained largely underused, particularly, as locals have derisively joked for decades, after the sidewalks were rolled up at 5 p.m. And yes, Tampa also had a pedestrian mall. The brick-paved, tree-lined Franklin Street was closed to cars in 1973 and limped along with boarded storefronts for decades before reopening to automobiles in 2002.
The pedestrian mall was quickly followed by the second wave in downtown circulation. Walt Disney had pioneered the "people mover" at Disneyland in 1967. The name stuck, and soon Boeing, LTV, and Rohr were developing similar driverless systems. Tampa International Airport was the first American airport to install a people mover, and it still runs from ticketing and baggage to airside. Airports and large hospitals remain the main users of these horizontal elevators, but there were five federally funded public transportation projects built with the technology, beginning with a project to connect the campuses of the University of West Virginia in Morgantown in 1975 and concluding with the Jacksonville Skyway in 1989. Tampa, in addition to its airport people mover, got the Harbour Island People Mover in 1985.
An already strong downtown or large university presence are just as relevant to the success of a people mover as to that of a pedestrian mall. Built over valleys not conducive to moving thousands of students by automobile, the Morgantown people mover carries 15,000 passengers per day and is essential to the life of the university. It was an exorbitantly expensive project, $411 million in 2011 dollars, but had a defined, existing ridership target, has performed well for more than 30 years, and must be considered a good investment.
The Detroit People Mover is more like airport or hotel people movers, as it connects the parking decks of the Renaissance Center with stations inside downtown buildings. It was built not to promote downtown street activity but rather to serve motorists working in downtown buildings. To the Motor City's credit, it produced a project that fit a particular need and has adequate ridership to show for it, with about 2 million annual trips (8,000 per day). At the other end of the spectrum is the Jacksonville Skyway with its puny 470,000 annual trips. The project, which has an annual operating deficit of $4 million, was built to last through 2036. Hence the Jacksonville Transportation Authority can anticipate spending $100 million during the next 25 years on just 1,900 daily trips. But tearing it down, as a city council member recently suggested, would mean repaying the FTA for its investment, a lump sum payment of $80 million.
Tampa was lucky enough to have the rare federal project that was actually destroyed. The Harbour Island People Mover connected downtown to what was effectively a suburban shopping mall built on a small spit of land just offshore, close enough that former President Gerald Ford hit a golf ball from the island to the mainland during a 1983 visit. The Ledger, a local newspaper reported in June 1985 that the Harbour Island development "is expected to be an additional economic bonanza for Tampa, a city already viewed as one of the nation's premier growth areas." But suburban residents already had suburban malls and did not need to go downtown for the same experience, people mover notwithstanding. By the mid-1990s Harbour Island was hemorrhaging money, and the people mover, capable of carrying 100 people per trip, was averaging just two. The developer offered to sell the people mover to Hillsborough Area Regional Transit (HART), the regional bus system, for only $1, but HART wisely declined. Demolition of the line, which prompted newspaper headlines like "People Mover Doesn't" and "Nearing the End of the Line," was completed in February 2000.
The ignominy of the Harbour Island People Mover did not end with its destruction. The Beneficial Corporation, developer of Harbour Island, had an agreement with HART to operate the people mover through 2015, and in the settlement that preceded its dismantling, Beneficial gave HART $5 million as seed money for the TECO Streetcar Line. The money from one failed downtown circulator was used to fund another.
Today HART does not know if it will be able to continue running the streetcar. In August 2011 the Tampa Port Authority board voted to end its $150,000 annual operating subsidy, rejecting a middle-ground plan to reduce the subsidy to $50,000. The new streetcar's ridership is marginally better than the Jacksonville Skyway's, at 501,959 trips in 2010, but HART expects a fiscal year 2013 total of just 330,000 trips, or a 50 percent drop. Perhaps those old-timey TECO cars will not be too sorely missed after all.
A New Way for Streetcars
There is nothing inherently wrong with streetcars as transit. The problem is in how they are deployed. The original streetcar systems were largely straight-line routes serving central business districts. The point was to get people to the CBD, where they would move around on foot. To this day the urban cores that lend their names to multi-county regions remain the most engaging, comfortable, and interesting places in the metro area to walk. The buildings are varied, attractive, and close to the sidewalk, street trees are common, and fenestration allows two-way communication between occupants of the buildings and the people on the street.
Proprietors need pedestrians to access their businesses; for them the money for urban circulators would be better spent bringing people to the urban core or improving the streetscape. In emerging large cities—the places now green-lighting light rail—streetcars, because of limited capacity, are not up to the task of delivering human payload. What, then, is an appropriate use for the modern streetcar?
Downtown boosterism has worked best in places like Madison, Charlottesville, Burlington, Boulder, and Morgantown. These are college towns, where young, relatively active people are accustomed to walking around universities that serve as second downtowns.
College towns are ideal for public transit because they follow the original purpose of moving people from nearby suburbs to the CBD. Students tend to live in clustered housing near the university, their primary destination. Of the 30 most transit-efficient cities in the U.S. (defined by the number of passenger trips per mile of transit service provided), 16 are college towns such as Athens, Iowa City, Chapel Hill, and Ann Arbor. The other 14 are mainly large, dense cities with excellent rail transport such as San Francisco, Boston, Los Angeles, New York, and Washington, D.C. (all of which also have significant student populations, though not the 25 percent threshold I use to classify college towns).
The highest and best use for a streetcar system is to connect dense student housing, a university, a functioning downtown, and a regional shopping venue, hospital, or other large attractor in a community of around 100,000 people. Athens, Gainesville, Norman, and Bloomington are ideal for this type of alignment (as is Lansing, which has opted to build a bus rapid transit system). We already have models for how to do this. Three systems in France provide exactly this kind of service: LeMans, Orleans, and Reims carry between 35,000 and 48,000 trips daily on systems that have between 6.9 and 11.2 miles of track. These streetcars—called tramways there—not only serve universities and downtowns but also take advantage of the tram's small footprint by wending between buildings, using rights of way that are useless to larger mass transit vehicles or automobiles.
Planners in Tampa and other streetcar cities have been betting on modal magnetism, the notion that the inherent attractiveness of rail will get people to use it even if there is not an existing demand for the service. This idea is wrong, and it has not worked. Transit projects should be built not to create demand but to serve the demonstrated needs of the public.
Not every circulator streetcar project is doomed. Two newish outdoor malls (or "lifestyle centers") in Southern California—Americana at Brand and the Grove—have circulating fleets of garish, old-fashioned streetcars. People drive to the lifestyle centers, park in vast parking decks, and ride the trolley past fountains, high-end storefronts, pedestrians, and outdoor diners enjoying California's glorious weather. These private streetcars fill the same role as the TECO streetcar, but without hitting up taxpayers. At Brand and the Grove the developers are entirely on the hook for the cost of the streetcars, and no one mistakes the systems for mass transit. This is a model that works: The shoppers get taken for a ride, but taxpayers do not.