Barack Obama's Not the Only One You Can Win Dinner With
The Romney campaign's offering "a bite" with Paul Ryan. You want dinner buy a plate at a fundraiser!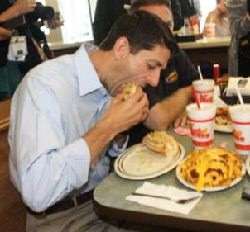 The Obama campaign has been raffling off dinners with the president throughout the campaign, holding the last of the raffles just yesterday. The efforts are useful in pumping up excitement and, most importantly, fundraising. But if "dinner with Barack" wasn't for you, the Romney campaign's taken a page out of the playbook. Of course you can't have dinner with Mitt Romney, who may or may not be a cyborg that doesn't actually eat, but you can "grab a bite" with his running mate Paul Ryan:
Friend,

Chatting with supporters like you over a good meal is one of my favorite parts of being on the campaign trail.

But with the warp speed we're at in the homestretch of this race — it doesn't happen as often as I'd like. That's why I hope you'll enter this contest for a chance to grab a bite with me.

As we get closer to Election Day, every bit of support will help us win this thing. We can't do it without you.

Donate $3 to be automatically entered: www.mittforpresident.com/donate/grab-bite-paul-ryan 

Thanks and good luck, 

Paul Ryan
Three dollars is the 2012 campaign's "can you spare a dime?" Inflation!