America's Most Hated Referee Is Also a Bank of America V.P.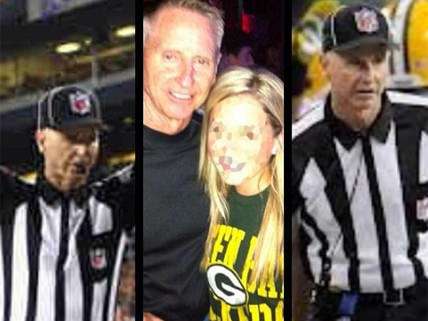 Here's a factoid that explains everything wot's wrong with this here modern America: The scab referee at the center of this week's Packers/Seahawks bad-call controversy is also a Bank of America official. At my alma mater-of-sorts American Banker, Kate Davidson describes how Lance Easley's journey to infamy began even before Monday's Fail Mary play:
The official at the center of perhaps the most controversial call of the season is in fact a vice president for small-business banking at B of A in California.

Lance Easley has worked at the bank since June 2011, according to his LinkedIn profile, and was a business banking specialist at Wells Fargo for nearly three years prior to that. A source at B of A confirmed Easley's title, but the company declined to comment further.

Easley was standing in the end zone during the final seconds of last night's Monday Night Football matchup between the Seattle Seahawks and Green Bay Packers.

Seattle was down by five points as its quarterback, Russell Wilson, threw a Hail Mary pass down the field. Seattle receiver Golden Tate shoved a Green Bay defender out of the way and wrestled another for the ball.

It was initially unclear who caught the ball first, resulting in the controversial call captured in this now-infamous photo of one ref signaling an interception while Easley signaled a touchdown.

But instant replays showed that Tate should have been called for pass interference, which would have ended the game with a win for Green Bay. And everyone in the world — except, perhaps, for Seahawks fans and the NFL — believed the pass was intercepted by Green Bay.
At ZeroHedge, Tyler Durden says the confluence of stinky careers contains a depth of meanings. "Well done Lance," Durden writes, "you have managed to move from the most-hated occupation (bankster) to the most-hated individual (outside of Seattle) in one weekend. Is it any wonder Small Business confidence and uncertainty is so high?"
I'm not sure there's a natural connection between moonlighting as a strike-breaking ref and working days a small-biz banker, but there is definitely a connection between BOA and the NFL. Both are corporate welfare queens that suck the taxpayers dry while insulting the great traditions of competition and free markets. In a universe ruled by a just God, Bank of America would have gone out of business in 2009 (and Wells Fargo might have as well).
While a money-printing machine like the NFL would not go broke if the public tit dried up, individual franchises might have to become a little more competitive (economically as well as athletically) if they were not heavily subsidized by the people. Which makes it even more maddening that the league enjoys such massive government indulgence. Are you ready for some cartel socialism, taxpayer fleecing, city-soaking stadiums, and dangerous workplaces that OSHA wouldn't allow any other random collection of bazillionaires to operate? Reason's all over it like Lawrence Taylor on Joe Theismann's tibia.
Maybe one replacement ref doesn't deserve to be the public face of all that unsportsmanlike conduct, but it's telling that Easley, like all great supervillains, flamboyantly taunts the forces of justice by refusing to hide. From Larry Brown Sports:
[H]ow did Easley respond to becoming one of the most notorious — and in many cases despised — referees of all time? By hitting up a club the very next night?

George Takata, the sports director at KPGE CBS 47 in Fresno, reported on Twitterearly Wednesday morning that Easley was out at Club Habanos — a bar/club in Fresno, Calif., on Tuesday night. Takata even tweeted the tri-pane photo you see above. He says the middle photo was sent to him by one of his friends, and it is of Easley at the club Tuesday night.

In an incredible irony, Takata's friend, whose face we blurred out, happened to be wearing a Green Bay Packers shirt — the very team Easley's awful call victimized…

If you were concerned that Easley might go into hiding after his notorious moment, it looks like you were wrong. Apparently the man is embracing his newfound fame.
Misguided jock sniffer? Inhuman monster? Misunderstood workingman who's just making sure a troubled nation can still get its pigskin on? Unlike the replacement refs, I leave it to you to decide.