Inclement President
Commutation No. 2?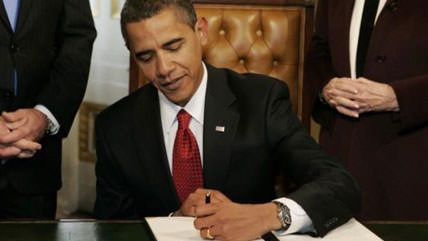 Clarence Aaron was arrested in 1992, when he was a student at Southern University in Baton Rouge, for connecting a cocaine supplier who was the brother of a classmate to a dealer he knew from high school. Although it was his first offense and he never made, transported, bought, or sold any drugs, he was sentenced to three consecutive life terms.
Aaron's case received renewed attention in May after ProPublica reporter Dafna Linzer revealed that he probably would be a free man today if the Office of the Pardon Attorney had not withheld crucial facts about his commutation petition from President George W. Bush. Two months after Linzer's exposé, administration officials confirmed that the White House had asked the Department of Justice (DOJ) to take a fresh look at Aaron's petition and planned a general review of the process for considering clemency requests.
Linzer reported that in 2008 Pardon Attorney Ronald Rodgers reiterated his office's 2004 recommendation against granting Aaron's petition, failing to note that the judge who sentenced Aaron and the U.S. attorney for the district in which he was tried both now supported his commutation request. The White House lawyer who had worked on the case told Linzer he would have urged Bush to free Aaron if he had seen the statements from the judge and the prosecutor.
In addition to re-examining Aaron's petition, the Justice Department planned to commission "a comprehensive, independent study" that "will examine how petitions for pardon are adjudicated and whether any discernible bias exists," a DOJ spokesman told Linzer. A 2011 analysis by Linzer and Jennifer LaFleur found that "white applicants were four times more likely to receive presidential mercy than minorities."
As of August, President Obama, who before his election repeatedly condemned excessively long prison sentences, had approved one commutation petition while rejecting more than 5,500. Citing unnamed administration officials, Linzer said "there has been growing interest inside the White House [in] reforming the pardon process."