States Cracking Down on Unlicensed Home Improvement Contractors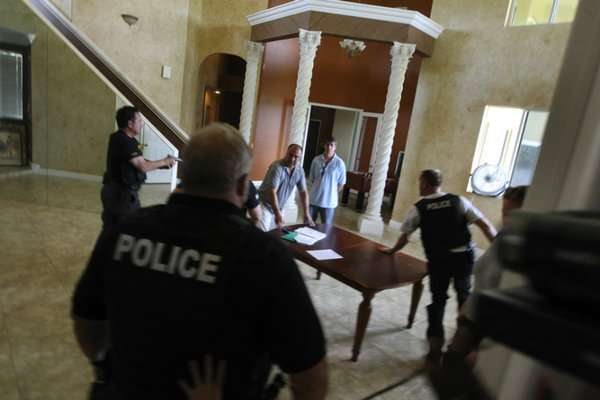 Occupational licensing boards in seven states launched a sting operation last week, catching 157 unlicensed contractors looking to work without a state permission slip. Officials in Arizona, California, Nevada, Oregon, Rhode Island, South Carolina, and Utah responded to internet ads for carpeting, plumbing, HVAC, and other home improvement services, luring would-be workers to home sites where investigators waited.
Coordinated with help from the National Association of State Contractors Licensing Agencies (NASCLA), which seeks "better regulation of the construction industry to protect the health, welfare, and safety of the public," the sting is the latest in a slew of enforcement activity aimed at unlicensed home improvement contractors nationwide.
NASCLA also helped conduct a sting in June that led to 15 investigations in Arizona, 31 investigations in Oregon, 23 citations in Nevada, and 100 arrests in California. In another operation in March, police arrested 111 other would-be workers in California. As of July, Maryland has over 80 cases pending against unlicensed workers. In Florida, over 70 contractors without licenses have been arrested this year—some of them in SWAT-style raids. From the South Florida Sun-Sentinel:
"How am I supposed to provide for my family with all the restrictions?" asked one cuffed worker, John Simms, 38, a father of four from West Palm Beach. "You tell that to my kids when I don't have the money to come home."

…Curbing illegal home improvements, officials say, has been an elusive goal in South Florida amid the downturn in the economy: Unemployed workers contract without a license as an easy way to make money. And some homeowners turn a blind eye to the unlicensed work for bargain prices.

…Homeowners who don't scrutinize whether someone is licensed may inadvertently invite a criminal inside their home, officials say.
New York City officials estimate that one in five home contractors is unlicensed. The city seized 72 vehicles from unlicensed home improvement workers over two months earlier this year. From ABC News:
"We are literally canvassing neighborhoods, pulling aside anyone we see doing work and making sure they are literally licensed," NYC DCA Commissioner Jonathan Mintz said.
Reason writers have written a thing or two about occupational licensing.
Click here for To-Catch-a-Predator-like coverage of unlicensed contractors in Portland, Or.