Philadelphia Threatens to Sue Man Who Spent $20,000 Cleaning Up Vacant Lot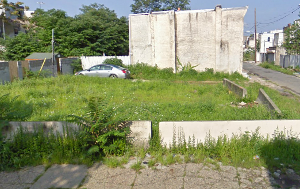 Ori Feibush removed 40 tons of trash and debris from a vacant, city-owned lot next to his coffee shop. He planted cherry trees and added benches. The city's response? Litigate!
According to the Philadelphia Daily News (with pictorial goodness):
Feibush…submitted seven written requests for either owning or leasing the parcel, has called the [redevelopment] authority 24 times and has visited its office four times. Both sides agree that Feibush went to the authority in early August and said the state of the lot was a threat to him and his neighbors. He was told not to go forward with his plans for the parcel. A few days later, he did anyway. "Finally out of frustration, I said, 'I'm going to clean it,' and that's when I rustled every possible feather there," said Feibush.
Officials have ordered him to return the lot to its original state and are threatening to sue.
"Like any property owner, [the authority] does not permit unauthorized access to or alteration of its property. This is both on principle (no property owner knowingly allows trespassing) and to limit taxpayer liability" says Paul D. Chrystie, director of communications at the Office of Housing and Community Development.
The city has issued citations to Feibush for not removing snow from the lot's sidewalk. Last month they cited him for trash on the lot, which, again, he does not own.
The Philadelphia Redevelopment Authority owns some 1,500 vacant lots citywide. The lot in question sits in Point Breeze, a neighborhood the city first declared blighted, thereby subjecting it to the threat of eminent domain, in 1971. Officials renewed the blight certification in 2009.
Click here for a reasonably complete list of Philadelphia neighborhoods threatened with eminent domain—until 2013—when the city's authority to condemn property for private use expires—as per 2006 reform enacted by Pennsylvania legislators.
Click here for more pics of the redeemed property.