Johnson Wins First Round of Ballot Battle in Pennsylvania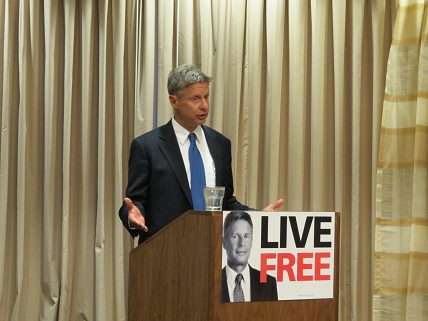 With a legal victory in Pennsylvania, Libertarian presidential nominee Gary Johnson just got a little closer to his stated goal of being on the ballot in all 50 states.
On Thursday, a three-judge panel of the state Commonwealth Court ruled 2-1 that signatures of about 9,000 voters are valid even though they listed addresses that do not match those in the statewide voter registry.

Challengers backed by the Republican Party argued at a hearing this week that those signatures should be disqualified, which could have knocked Johnson off the statewide ballot.
This fight isn't over for Johnson, though, as the Republicans involved are reportedly planning an appeal.
Two people with knowledge of the petition challenge – which has been coordinated with the Pa. Republican Party – said an appeal was in the process of being filed Friday afternoon. Both said the move is typical in such disputes; state law gives litigants a presumptive right to appeal any Commonwealth Court decision.

…
"The Republican Party of Pennsylvania supports the objectors appealing the ruling issued by the Commonwealth Court because the bottom line is that not only were the Libertarian Party's nominating petitions riddled with errors, duplicate signatures and in some cases, blatant fraud, the Commonwealth Court's recent ruling will have significant consequences on the integrity of our Commonwealth's ballot access process," she said.
Johnson is on the ballot in 47 states and Washington, DC. More from me on Johnson's ballot access battles here.