Elizabeth Warren's DNC Speech Falls Flat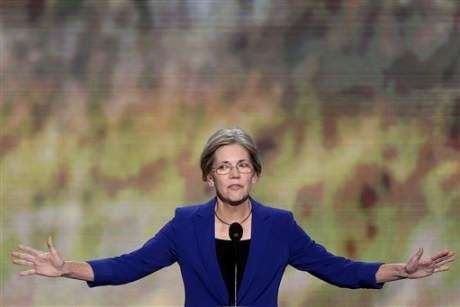 CHARLOTTE—Elizabeth Warren may not get a bounce in the polls back in the Commonwealth from her highly anticipated speech at the Democratic National Convention last night but she will probably fill her campaign coffers. Whether it was her nerves or her inability to work the largest crowd she has been presented with since starting her campaign, Warren mostly stumbled in her formal debut to national Democrats in a political setting.
Clad in her customary blue blazer, the Harvard Law professor delivered a speech that was part biographical, part stump speech, and part praise for President Obama. She weaved it together with points aimed as much at the Massachusetts audience that is still warming up to her as at the convention hall and those watching nationwide that love her more.
"For many years now, our middle class has been chipped, squeezed, and hammered. Talk to the construction worker I met from Malden, Massachusetts, who went nine months without finding work. Talk to the head of a manufacturing company in Franklin trying to protect jobs but worried about rising costs. Talk to the student in Worcester who worked hard to finish his college degree, and now he's drowning in debt. Their fight is my fight, and it's Barack Obama's fight too," she said
Like nearly every politician at both major party conventions this year, Warren talked about her childhood and growing up on the "ragged edge of the middle class," a phrase she has used nearly every day since she started campaigning.
"My daddy sold carpeting and ended up as a maintenance man. After he had a heart attack, my mom worked the phones at Sears so we could hang on to our house," she said.
Fast-forwarding to her time building the Consumer Financial Protection Bureau, Warren played up the efforts that made her a darling on the national liberal scene.
"After the financial crisis, President Obama knew that we had to clean up Wall Street. For years, families had been tricked by credit cards, fooled by student loans and cheated on mortgages. I had an idea for a consumer financial protection agency to stop the rip-offs. The big banks sure didn't like it, and they marshaled one of the biggest lobbying forces on earth to destroy the agency before it ever saw the light of day. American families didn't have an army of lobbyists on our side, but what we had was a president…"
"We had you!" yelled somebody in the upper deck, echoing across the arena.
When Warren initially walked across the stage she blew the doors off the building without even speaking but somehow failed to feed off the crowd that so desperately wanted her to inspire them to new heights. Warren slogged through her speech and limped flatly to what should have been a dramatic finish.
"Joe Biden is ready! Barack Obama is ready! I'm ready! You're ready! America's ready! Thank you! And God bless America!"
Warren's speech was an Us vs. Them argument even though her opponent, Sen. Scott Brown, is doing a better job of making it a non-partisan one-on-one contest. Indeed, Warren never mentioned Brown in her DNC speech. As a Republican, Brown has huge institutional disadvantages in Massachusetts that range from registration disparity to the stunning incompetency of the state party to organize at the hyperlocal level.
Rocketing to stardom after launching her campaign but struggling since, Warren has somehow managed to fail to meet expectations in a state that is overwhelmingly Democratic. Her enduring a scandal about her reported American Indian heritage and often being outmaneuvered by the Brown campaign has not helped her either.
Brown avoided the spotlight at his party's convention last week in Tampa, sticking to his campaign's game plan of avoiding even the word "Republican" at all costs.
Warren's stumbles probably didn't matter as much as they could have because former President Bill Clinton took the podium shortly after her and proceeded to deliver a stemwinder that may have even overshadowed the sitting president.