Connecticut First Lady Cathy Malloy Gripes About Her Car, Media, Seat Belt Laws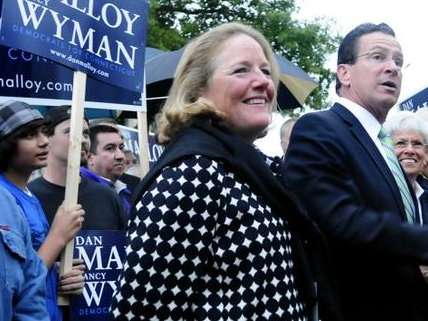 I've never really understood the whole tradition of the First Lady in a country where the Constitution won't even let us have a queen. But occasionally the job of Egg McMuffin-critic-in-chief leads to comedy.
At the Democratic National Convention earlier today, Cathy Malloy, wife of Connecticut Gov. Dan Malloy, decried the scrutiny powerful people and their families get from the media:
"One of the things about public life, whether they're Republican or Democrat, is that people do not appreciate people in public life the way they should. They beat their politicians up every day, and this is a huge problem. Not only do we get beat up, our children get beat up. It's a tough business," she said.

"In April I drove to work and I forgot to put my seat belt on, and I was pulled over by police. Of course, they had no idea who I was because I drive this really shitty car, and they didn't believe that I was the governor's wife in this shitty car. And I was driving myself, because of course, governor's wives only get security when we're with our husbands. We're pretty second-class without them.

"National news," she said. "It's just so bizarre. We choose to be in public life. We choose to run for office, so nobody should feel sorry for us. This is what we do.

"When people need to make the choice if they want to get into public office or not, they say, wow, do we really want to subject our children to this? Or our wives to this? Or our husbands? It's a big decision because the media just won't let up."
Malloy made her comments at an Emily's List panel featuring one-time Star Trek: The Next Generation guest star Ashley Judd and Sen. Kirsten Gillibrand (D-New York).
Unfortunately, even in the bosom of a political confab featuring some of the wealthiest and most well connected people on this planet, the Nutmeg State's First Clunker-Driver was not safe from the pitiless glare of the paparazzi. Much fun was made of Malloy's comments, and this afternoon she retracted her statement.
"I was trying to convey a certain sentiment and I didn't do a good job of expressing what I really feel," Malloy said. "Although I don't always agree with what's written by members of the media, I do believe that they've been fair to my family and me."