Gary Johnson Included In New Rasmussen Poll; Campaign Pleased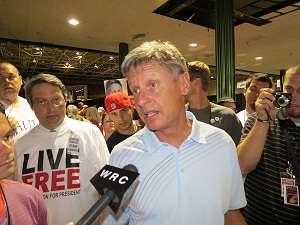 Tampa - Throughout Gary Johnson's presidential campaign he has talked about how he needs to be included in polls. Well, Rasmussen Reports appears as if it is adding the Libertarian Party nominee to its surveys.
A new Rasmussen Reports national telephone survey finds that 16% of Likely U.S. Voters have a favorable opinion of Johnson, while 20% offer an unfavorable view. Only one-out-of-10 have a strong opinion of him: Two percent (2%) have a Very Favorable view of Johnson, while eight percent (8%) have a Very Unfavorable one. (To see survey question wording, click here.)

Sixty-three percent (63%) don't know enough about Johnson to have any opinion at all.

If Johnson is included by name in the presidential ballot question, up to four percent (4%) of voters might support him. However, the final results show 48% for Mitt Romney, 48% for President Obama, one percent (1%) for Johnson and 3% undecided.
When asked for comment on the new the Rasmussen poll, Johnson Press Secretary Joe Hunter said the campaign was happy.
"Simply being included in the survey is more important than the number," Hunter said. "Just seeing Gov. Johnson in the poll will invite voters to learn more about him and that is our objective. It cannot be overlooked that we have not yet aired a single ad. Being part of the conversation is the first step, and an important one."