It's All About the Pauls: Ron, Rand, and Ryan
Tea partiers' and libertarians' growing influence in the GOP will be on full display when the three Pauls converge in Tampa for the GOP Convention.
Tea Partiers' and libertarians' growing influence in the Republican Party will be on full display this weekend as the three the Pauls—Ron, Rand, and Ryan—converge in Tampa for the GOP Convention.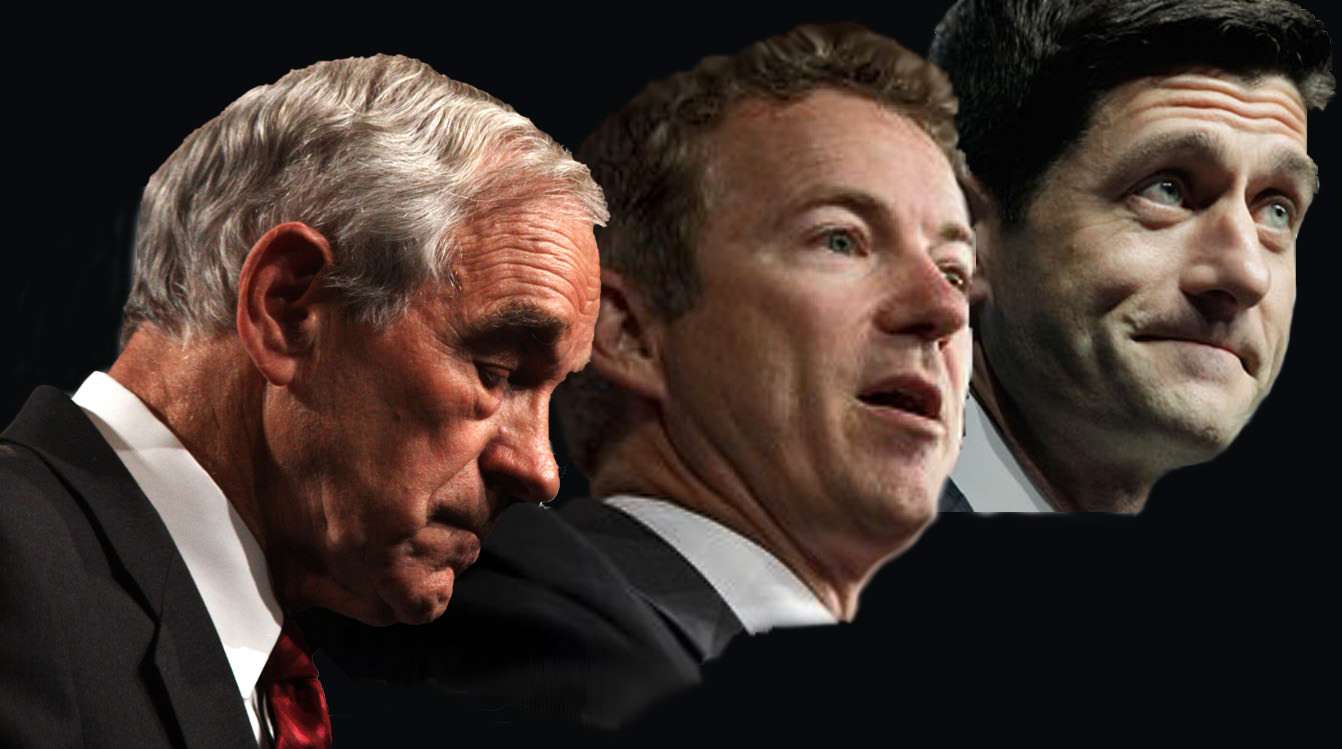 Ron Paul may be libertarians' and the Tea Partiers' past, Rand Paul the future, and Paul Ryan—well, he may be the best the Republican Party can do at the moment.
The three Pauls represent a dawning realization among strategists and pollsters that libertarians are among the most important slices of the electorate, up and down the ticket—from the presidency to key Senate races to key House races. The data show why.
Libertarian Tea Partiers key to turnout
First, if 2012 becomes a turnout election, Romney may well be betting on the energy of Tea Party libertarians to put him over the top.
Many people on the left still confuse the Tea Party as the same old religious right, but the evidence says they are wrong. The Tea Party has strong libertarian roots and is a functionally libertarian influence on the Republican Party.
In a new study at Cato, "Libertarian Roots of Tea Party ," we compile data from national and local polls and dozens of original interviews, and find that half the Tea Party is socially conservative, half libertarian—that is fiscally conservative, but socially moderate to liberal.
Libertarians led the way for the Tea Party . Starting in early 2008 through early 2009, we find that libertarians were more than twice as "angry" with the Republican Party as were conservatives, more pessimistic about the economy and deficit since 2001, and more frustrated that people like them cannot affect government. Libertarians, including young people who supported Ron Paul's 2008 presidential campaign, provided much of the early energy for the Tea Party and spread the word through social media.
Tea Party libertarians report higher levels of political activism according to Washing­ton Post polling data. The Washington Post data show 65 percent of Tea Party libertarians report attending a political rally, speech, or meet­ing, compared to 48 percent of Tea Party conservatives. Forty-six percent of Tea Party libertarians report being likely to contribute money and 75 percent plan to convince neighbors to vote, compared to 35 percent of Tea Party conservatives who were likely to give money and 66 percent who plan to convince someone to vote.
Tea Party libertar­ians are the more active, angry, ani­mated part of the Tea Party movement. That's how libertarians and Tea Partiers propelled Rand Paul to victory in 2010 over establishment Republicans' objections. And that's why libertarian Tea Partiers are a key liability for the Romney campaign.
Ron Rapport at William and Mary showed that among FreedomWorks supporters, who would become part of the Tea Party movement, only 40 percent of libertarians did something for the McCain-Palin ticket in the 2008 general election, compared with 70 percent of the supporters of every other major nomination candidate from that year. Tea Party libertarians and Ron Paul supporters may otherwise be less inclined to turn out and help than conservative Tea Partiers.
Romney's famously data-driven campaign no-doubt tested Ryan's impact on various segments of the electorate, libertarians included. Part of the Romney campaign's calculus for Paul Ryan may be that he moves Tea Party libertarians more than conservatives. Ryan is no libertarian, for sure. But many libertarians have admitted some enthusiasm, notwithstanding their reservations, about Ryan.
Libertarian independents are the true swing voters
Second, even in turnout elections, swing voters matter. And that's why candidates will also need libertarian independents.
In Declaration of Independents, Nick Gillespie and Matt Welch chronicle the rising importance of independents and libertarians:
"Independents and libertarians are arguably the vanguard of American public opinion, an advance scouting party hinting at where and how hard the country as a whole will turn against its leaders."
A new poll from the Washington Post and the Kaiser Family Foundation confirms this. Many independents have already made up their mind. But 13 percent of the independents, or about five percent of the total electorate, are truly undecided.
Cato's David Boaz points out that these voters are highly dissatisfied with today's political system, that 64 percent support "smaller government with fewer services," and 63 percent favor gay marriage. He writes, "These are the true swing voters, and they might well be described as fiscally conservative and socially liberal."
This helps explain why more and more Republican candidates are running as "functional libertarians"—emphasizing fiscal issues such as spending, tax reform and ending bailouts, while avoiding subjects like abortion and gay marriage—and winning. This strategy may unite Tea Partiers in the primaries, appeal to libertarian independents, and woo other general election voters concerned about the economy.
Rand Paul may be a savvier politician than his father, perhaps trading his endorsement for Romney for a primetime speaking slot. But Ron Paul delegates, libertarians, and Tea Partiers' views influenced the GOP platform. The Fiscal Times reports that in addition to "privatizing Medicare," and promoting a "flatter income tax," the draft GOP platform calls for a "permanent audit" of the Fed and even a national commission to study returning to the gold standard.
Paul Ryan is more political still, and perhaps the best libertarians can expect from today's Republican Party. Notwithstanding claims that Ryan's budget is "draconian" "radical" and "extreme," Ryan only manages to balance the federal budget in 2063, compared to Rand Paul's plan that balances in five years.
The story of the three Pauls and libertarians' growing political clout should give all libertarians reason to cheer—libertarian Tea Partiers and libertarian independents included. Thomas Jefferson wrote that "When the people fear their government, there is tyranny; when the government fears the people, there is liberty." Increasingly, politicians fear libertarians. And that's a good thing.