Cosmopolis
David Cronenberg's delightfully strange riff on sex, technology, capitalism, and the quest for a good haircut.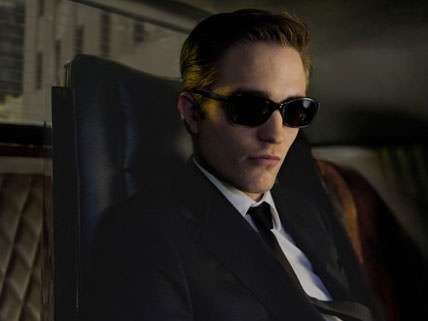 David Cronenberg, the Canadian director of 80s freak-out classics The Fly, Scanners, and Videodrome, used to make sci-fi horror movies about sex and technology. He was once dubbed the "King of Venereal Horror," and he mastered the high-tech gross-out metaphor: Under his direction, biology and technology intermingled with libido and science, and flesh-and-goop monsters emerged. His latest movie, Cosmopolis, offers yet another chilly riff on lust, information, and mechanization, but this time the monster stays firmly in the realm of metaphor. Capitalism is the all-strangling creature that haunts this film, a delightfully off-kilter adaption of Don DeLillo's 2003 novel of the same name.
"All wealth has become wealth for its own sake," remarks Jane (Emily Hampshire), one of the many vaguely opaque supporting characters to appear briefly in the film. "Money has lost its narrative quality," she says. There's a lot of elliptical talk about money and capitalism scattered throughout the film. But just as often the movie is talking about itself. So it's no surprise to find that the movie has ditched the idea of narrative as well. Cosmopolis has little of the structured, plot-driven focus of most conventional feature films. It's barely a story at all.
Instead it offers a series of weird and often barely explained encounters between a young, tech-savvy billionaire, Eric Packer (Twilight star Robert Pattinson) and a series of interlocutors, most of which take place in his tricked out super-stretch limousine. There's Jane, a top financial analyst; Elise (Sarah Gadon), his curiously distant wife; Torval (Kevin Durand), his cryptic personal bodyguard; Shiner (Jay Burachel), his IT security guru; and a host of others. Most of the characters show up just once, and none are particularly realistic. Instead, they're symbolic figures meant to deliver a message—a monologue, a question, an inquiry into some mystery of modern capitalism.
Many of these encounters come across like scenes out of a theatrical production. They're stagey and static, built out of long stretches of looping, often bizarre dialogue. (My favorite non-sequitur comes when Jane declares, for no particular reason, "I want to go home and tongue kiss my Maxima.") The terse, ominous quality of the exchanges plays like a mix of Harold Pinter and David Lynch, conjuring up an eerie dreamscape that never feels quite right.
At the center of it all is Pattinson as Packer, the boy billionaire. Pattinson offers a twist on his cringe-inducingly vacant performance as a vampire heartthrob in the Twilight films: If the rest of the cast is opaque, Pattinson is positively mannequin-like, empty and blank, perfect-looking in a way but never quite real. He too is a symbol—an avatar of the movie's icy vision of the wealthy financial class, perfect and powerful but somehow empty and inhuman. (It's not the first movie to portray the rich this way. Pattinson's Packer owes plenty to American Psycho's killer yuppie, Patrick Bateman.) Indeed, the movie makes a subtle running joke of Pattinson's lack of physical blemish or any identifiable human need. The story, such that it is, begins when Packer steps into his limo on the way to get a haircut, a quest he pursues almost until the movie's end. But his hair is already absolutely perfect.
Is there a point to any of it, or is it just gloomy semi-surrealism? There's a bit of both. Cronenberg's movie monsters are frequently creatures created or driven by base sexual desire, and many of his films rely on sticky depictions of fleshly penetration and transformation for both their horror and their allegorical power. There are a handful of moments of gross-out violence in Cosmopolis, but there is no literal monster. Instead, there's a system, but it is nonetheless a system driven by a rabid reproductive urge: Ultimately, Cosmopolis is about capitalism's insatiable libido, and the powerful way it transforms the world in its image.
Cronenberg's dreary take on the world made by markets is abstract enough to be interesting rather than irritating, and in the final act there's a sly suggestion that the system may in fact be a misunderstood monster, rather like Jeff Goldblum's Brundlefly in The Fly. The whole thing is compellingly odd enough that it's enjoyable just as a big-screen trip. Indeed, Cronenberg seems less interested in criticizing capitalism than in drawing out icky and unusual juxtapositions by pairing the obscene with the mundane and the technical. Money may have lost its narrative quality, but in Cronenberg's capable hands it still proves a fairly potent metaphor.