Medical Marijuana Suppliers Challenge L.A. Ban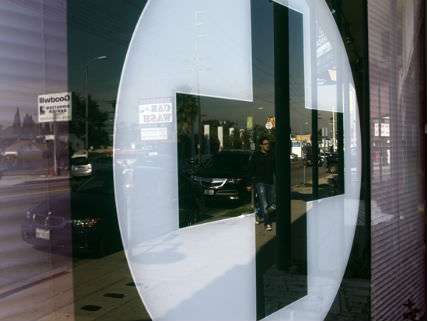 Last Friday the Patient Care Alliance of Los Angeles (PCA-LA), a local trade association, filed a lawsuit challenging that city's recently approved ban on medical marijuana dispensaries. The group's complaint, which asks the Los Angeles County Superior Court for an injunction preventing the new ordinance from taking effect, argues that the ban conflicts with state laws allowing medical use and cooperative cultivation of marijuana. In 2008, PCA-LA notes, California Attorney General Jerry Brown (now the state's governor) issued guidelines saying that state law allows nonprofit distribution of medical marijuana by "collectives" or "cooperatives" consisting of patients or caregivers. Yet L.A.'s ordinance bars more than three people from growing cannabis together, even in their own homes. PCA-LA says that restriction makes producing medical-quality cannabis impractical, so that the ordinance amounts to "a total ban on all use of medical marijuana." The group also argues that the ban impermissibly impinges on freedom of association and deprives dispensary operators of their property without due process of law.
Last week William W. Carter, L.A.'s chief deputy city attorney, sent letters to hundreds of landlords who rent space to dispensaries, threatening them with $2,500-a-day fines and criminal prosecution that could result in up to six months in jail if the dispensaries do not close by September 6. In response, Joe Elford, chief counsel to the patient advocacy group Americans for Safe Access, sent Los Angeles City Attorney Carmen Trutanich a letter saying the city's moves to shut down dispensaries are "premature and may subject you to a legal response." Elford noted that an initiative aimed at overturning L.A.'s ordinance is likely to qualify for the local ballot this fall and that the California Supreme Court will soon take up the legality of local dispensary bans, about which state appeals courts have disagreed.