Three Members of Russian Punk Band Pussy Riot Sentenced to Two Years in Prison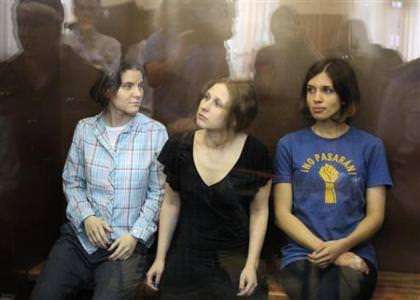 In spite of the international outcry, three members of the Russian feminist punk band Pussy Riot were found guilty today for "hooliganism" motivated by "religious hatred." Their punishment is two years in jail, which is less than the previously mentioned feared sentences of three and seven years, but is still disappointing to the women's supporters.
Russian dissident supporters of the women have also been detained when they came to the court room to rally around the band. Hundreds of people chanted outside for the women's freedom as well.
Still, inside of Russia, support for the band is low, no matter if Paul McCartney and Madonna are on their side, and even though the object of their protest, President Putin, even said the women's punishment should not be too harsh. But that it is, of course, up to the court. The court that called the women's protest "blasphemous."
The women's blasphemy was less than a minute of protest inside of the Cathedral of Christ the Savior in Moscow. That church is owned by the Russian government. The women apologized for any religious offense their performance of "Punk Prayer" (including the lines "Mother Mary, drive Putin out!") caused, saying they intended it to be purely political — or at least a critique of the Russian government and the Orthodox church's too-close ties. But that, and their insistence on using the word "feminist" to describe themselves (as well as, ya know, a slang term for female genitals) doesn't endear them to conservative folk in Russia.
Back in February, just days before their arrest, Vice did an interview with the band. A particularly endearingly optimistic passage:
VICE: So what inspired you guys to start Pussy Riot?
Kot: Pussy Riot came to action around the end of September 2011, right after Putin announced that he was planning to return as president and brutally rule Russia for at least 12 more years.
Serafima: Right, and at that point we realised that this country needs a militant, punk-feminist, street band that will rip through Moscow's streets and squares, mobilise public energy against the evil crooks of the Putinist junta and enrich the Russian cultural and political opposition with themes that are important to us; gender and LGBT rights, problems of masculine conformity, absence of a daring political message on the musical and art scenes and the domination of males in all areas of public discourse.
VICE: Why 'Pussy Riot'?
Garadzha: A female sex organ, which is supposed to be receiving and shapeless, suddenly starts a radical rebellion against the cultural order, which tries to constantly define it and show its appropriate place. Sexists have certain ideas on how a woman should behave and Putin, by the way, also's got a couple thoughts on how Russians should live. Fighting against all that—that's Pussy Riot.
The rest here.
In other interesting reactions to the kerfuffle, Counterpunch.org had an argument with its self about whether the international outrage over this band is fake or not. Writer Mike Whitney scorned the U.S. media for ignoring U.S. atrocities, including the prison-industrial complex (fair enough), while focusing on Putin as a boogy-man, yet somehow concluded that Putin is popular inside Russia and therefore the situation the women of Pussy Riot find themselves in is okay. Thankfully, Chris Randolph wrote a scathing rebuttal to the general failure of lefty solidarity that Whitney displayed.
Two years in prison could be worse, but it's still a bleak reminder that states will do what they like with people who make a fuss— even with such a large backing of international support. And in all cases, in all countries where people end up in prison for terrible reasons, these women have families back at home, two of them have young children. Meanwhile, the rest of the band remains free, apparently in hiding, hoping to stay anonymous. Check out the Wall Street Journal's liveblog for updates on the case.
ReasonTV recently visited a solidarity concert for the band outside of the Russian embassy in DC.