882 Arrests in New York City Public Schools Last Year
95 percent of arrests were of blacks and Hispanics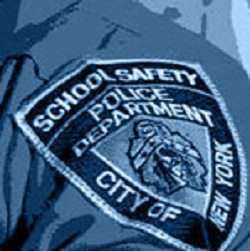 The New York Police Department, the pioneer of COMPSTAT, which uses statistics to help fight crime, did not start releasing data on arrests made in New York City's public schools until a city law passed in 2010. That law had been first proposed in 2008, but languished in the City Council while New York City's legislators decided to extend term limits for themselves instead (an extension which allowed Michael Bloomberg to run for, and barely win despite a significant monetary advantage, a third term in office). A lawsuit by the NYCLU alleging the use of excessive force, abrogation of due process, unwarranted searches and seizures and police brutality in the city's schools was filed in January 2010, likely the impetus to finally act on the "Safe Schools Act," which ended up passing the city council unanimously.
With the first full school year of data available, the NYCLU (whose lawsuit is still pending) analyzed the data released through the law to find that the NYPD's "School Safety Division" arrested an average of four students a day and handing out about seven citations a day. According to the NYCLU, upward of 95 percent of the arrests were of black or Hispanic students, 74 percent were boys, and a full 20 percent were between the ages of 11 and 14, meaning at least 165 students arrested last year were 14 or younger.
The NYCLU points out there are more than 5,000 police officers in the New York City school system, more than the total amount of guidance counselors and social workers combined and notes a full 64 percent of summonses issued in the school year were for "disorderly conduct."
The NYPD's data is available here.