Hot Dog Kid's Family Is Now Homeless. Restaurateurs Who Pay Extra Taxes Are Safe, Though.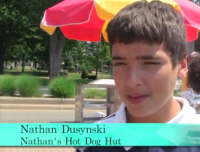 Remember 13-year-old Nathan Duszynski, the Michigan kid who wanted to make some money to help out his disabled parents by opening a hot dog stand?
The story has taken a turn for the worse: The Mackinac Center, which originally brought the story to light, is now reporting that Nathan and his parents are homeless after the city shut down his business:
The family receives about $1,300 a month in disability payments, Medicaid and food assistance. The three are having a hard time staying together. MLive confirms what the Mackinac Center learned Thursday — Nathan and his mother are staying at the Holland Rescue Mission.

"Nate and I are now in a shelter," Lynette said. "Doug can't stay with us because he takes prescription narcotics to deal with his pain and the shelter does not allow him with those kinds of drugs."

She says the situation has been stressful on the family. Lynette is afraid to be away from her husband in case she has a seizure.
The cart was shut down 10 minutes after Nathan started set up on his first day in the parking lot of a sporting goods store with the owner's permission. The cart violated a rule against food carts in Holland, Michigan's downtown commercial district.
After the story gleaned some media attention, city officials responded to individual inquiries by explaining that there has been some bureaucratic snafus. But they ultimately stuck to their guns, justifying the decision like this:
The downtown business owners annually pay substantial assessments (often reaching into the thousands of dollars) for improvement and maintenance of the free parking lots, amenities and events, and "snowmelt" to keep the downtown alive and well – and these assessments are on top of their regular property taxes.

With that in mind, it is understandable that these businesses, historically at least, have been reluctant to allow mobile vendors into the downtown area to benefit from the environment the brick and mortar businesses have created, compete with them for customers, but not contribute to the substantial capital and operational costs of the downtown.
Got that? The businesses are reluctant to allow competitors. Coincidentally, the city—recipient of those thousands of dollars in fees—is reluctant to allow competitors as well. Handy, no?
Last week, Nathan and his family made an appeal to the Holland City Council. Mayor Kurt Dykstra defended the city's ordinance, saying it was to protect downtown restaurant owners, who asked that the "success of the downtown district not be infringed upon by those who don't share in the costs of maintaining the attractiveness of that space."
Consider this your daily reminder that crony capitalism happens at all levels.
If you want to help Nathan out, you can do so here.