As City Employee Numbers Drop in Chicago, Costs Go Up
Part 12,394 of an infinite-part series on public employee cost crises across the country.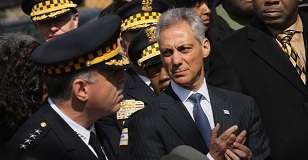 Part 12,394 of an infinite-part series on public employee cost crises across the country, courtesy of the Illinois Policy Institute:
The city's workforce is getting small but more expensive: dropping from almost 42,400 full-time-equivalent positions in 1993 to fewer than 33,800 FTEs in 2012. But at the same time per-employee costs have skyrocketed from $58,299 in '03 to $96,082 in '11. So while the city cut its workforce by about 20 percent, per-employee costs have gone up by better than half. Add it all together and you have labor costs for the city as a whole increasing by 14 percent.

And employee costs really drive the City of Chicago's budget; by the city's own calculations 74 percent of expenditures over the last nine years have been personnel related.
But that's just the extant costs. What about those pensions?
The best of the four (which unfortunately happens to be the smallest of the four in terms of payments it is expected to pay out) has only 61 percent of the assets it ought to hold to be able to pay expected benefits – barely out of what is widely considered to be the pension crisis zone. The firefighter and police pensions have only 26% and 33% of the assets they should. The city's largest pension fund, which covers most city employees (outside off public safety) as well as some non-instructional public school employees, has about 41 percent of the assets it will need to be certain of paying benefits on time.
According to the budget math, the city needs to increase its pension contributions from $476 million this year to $1.2 billion in 2015.
According to the city's own analysis, the uncontrollable personnel costs are significantly due to forced salary increases "resulting from contractual obligations under collective bargaining agreements with the unions that represent the vast majority of the City employees."
Mayor Rahm Emanuel's team couldn't possibly be considering the idea that collective bargaining by public sector unions are a bad thing, could they? I thought that was something only corporate-owned, Koch-funded, Tea Party plutocrats believed!
But then, Emanuel has shown he is not too fond of a lot of public sector nonsense, standing up to lunatic raise demands by teachers unions and practically campaigning against unions in his run for mayor. It would be interesting to see the messaging if the unions tried to get him recalled.