Political Speech is a "Fundamental Right" When You're Defaming Private Citizens, But a Threat to Democracy When You Spend Money in Support of Your Preferred Causes or Candidates
Sheldon Adelson strikes back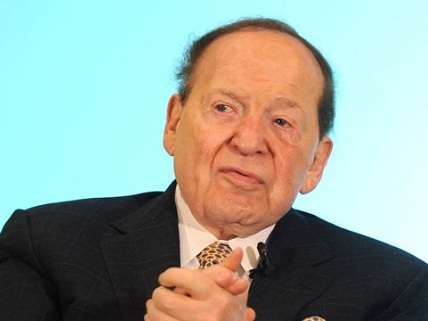 Sheldon Adelson has made good on his promise to sue organizations promulgating the unsubstantiated claim that he profited off prostitution at his Macau casino. The Democratic Congressional Campaign Committee retracted their accusations and apologized to Adelson last week. The National Jewish Democratic Council did not, and today were slapped with a $60 million lawsuit by Adelson. The NJDC's defense, via CNN:
"This is not Putin's Russia, and in America, political speech regarding one of the most well-known public figures in our country is a fundamental right. One would think the person making greatest use of the Citizens United ruling would understand this"
And yet, this fundamental right to political speech has been identified as an enemy of democracy, with the Obama campaign's primary fundraising pitch consisting of pointing out how many much the right to political speech is being exercised by the president's opponents, and how unfair it is to him, and won't you send $3 please?
Political speech regarding our most well-known public figures in the country is, indeed, a right. And the most well-known public figure in the country is the president of the United States, who also has access to the bully pulpit, the most well known amplifier of political speech. Restrictions on that fundamental right to political speech, via campaign finance laws, are the danger to democracy, not the lack of them.
I previously explained the positive influence of money in politics here, here and here.
Your call as to how related: Sheldon Adelson's Las Vegas Sands is apparently being investigated by the U.S. Attorney's office in Las Vegas.