Brutal Revelations Add Up For Minnesota's Defunct Metro Gang Strike Force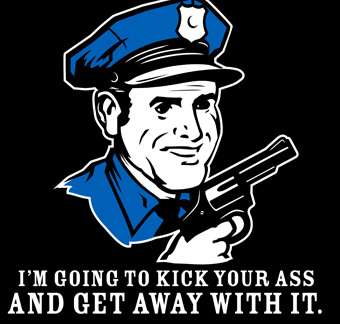 What happens when you unleash police in quasi-military, no-holds-barred, special-forces style against a perceived social problem? As Minnesotans could tell you, it turns out that you get all of the abuses that you should have anticipated from unleashing armed troops in quasi-military, no-holds-barred, special-forces style against your society. And even after you've sent those out-of-control cops to some equivalent of the back of the woodshed, cleaning up the mess takes years.
The multi-agency (meaning, not clearly under anybody's control) Metro Gang Strike Force was shut down after reports of abuse of power, brutality and outright theft added up. The death knell for the strike force, which itself was acting like gang, came in May 2009, when the Legislative Auditor's Report concluded, "[t]he Metro Gang Strike Force's internal controls were not adequate…" As the follow-up report (PDF) of the Metro Gang Strike Force Review Panel detailed in August 2009:
Following the issuance of the Legislative Auditor's report, on the night of May 20, a number of Strike Force officers were observed shredding documents at the Strike Force offices. At that time, the Commissioner of the Department of Public Safety shut down the Strike Force pending further investigation by this Panel and the F.B.I.
Shredding documents? Yeah. That's not a good sign. here are some highlights from Review Panel report:
Employees, including sworn officers, repeatedly took property obtained during searches for their own personal use. These items included, among other things, flat screen and large screen televisions, laptops and other computer equipment, electronics, jewelry and recreational items. On a few occasions, officers returned property to the Strike Force offices when others made an issue of their conduct. Some of the items removed by officers for their personal use were items that were stolen by a defendant in a case, and could have been returned to their rightful owner. …

As the saturation details grew to include stops that were not gang-related, Strike Force officers began to seize funds from those stopped, regardless of any intent to file charges against the people stopped and without regard to whether the funds could reasonably be connected to illegal activity. …

In late 2008, Strike Force officers were asked to sign blank forms permitting the evidence in their cases to be destroyed. Once these documents were signed, Strike Force personnel placed forms noting that evidence was destroyed into files in which the evidence was not, in fact, destroyed.
With the group in disgrace and under investigation, Minnesota pulled the plug on the Metro Gang Strike Force was in 2009. The state soon realized that all of those people mistreated by the crack law-enforcement team would have to be made right somehow — if only because they had access to good lawyers. In July of this year, the Minneapolis Star-Tribune reported on some of the costs involved in (somewhat) compensating victims of the Metro Gang Strike Force:
More than $840,000 was awarded Monday to 96 victims of illegal searches, seizures and use of excessive force by the now-defunct Metro Gang Strike Force, including a dozen juveniles who were targeted by a Brooklyn Park police officer.

The scandal-ridden gang unit, shut down by the Department of Public Safety three years ago this month, broke through people's doors without justification, seized property without authorization and injured people who were not suspects, according to reports by Mark Gehan, a St. Paul attorney appointed as special master in the case.

The awards, ranging from $300 to $75,000, conclude the main phase in the 2010 settlement of a $3 million class-action lawsuit that allowed victims of the Strike Force's misdeeds to apply for compensation, but only if they had had property taken.
Another result of that class-action lawsuit, though, was a series of revelations about what that compensation was for. The incidents documented during the course of court proceedings delve just a little deeper than the official reports. Again, from the Minneapolis Star-Tribune:
A toddler, not yet 2 years old, was kicked in the head by a Metro Gang Strike Force officer and his crib was destroyed during a botched drug raid. The government's payout to the child: $6,000.

A Lincoln Navigator SUV, seized by the Strike Force, was returned to the owner 18 months later, with 20,000 more miles on it. Payout to the owner: $25,000.

In other raids, officers improperly seized a blender, class rings, an ice auger and a stump digger. One man lost some Twins baseball hats he said were autographed by Joe Mauer. His compensation: $2,000 if the caps are not returned.
About that toddler-as-soccer-ball … According to the article:
An officer tried to kick a woman, but instead kicked her toddler. A photo showed a bruise on his forehead. A $289 crib was destroyed.

In its defense, the Strike Force called it "a high-risk raid and that officers are permitted to use force commensurate with the danger," Gehan wrote.

"I am unable to discern why it would be necessary to kick claimant's mother," Gehan wrote, issuing a $6,000 award.
Six-thousand dollars for accidentally kicking a toddler while missing an attempt to kick the baby's mother without any reason? Seems a little inadequate, doesn't it? Well, that's as much payback as anybody gets. So far as I can tell, the feds decided to prosecute only one of the former strike force members. And he was found "not guilty." No other charges have been brought.