Britain's Government Continues to Get Pulled Apart By Internal Squabbles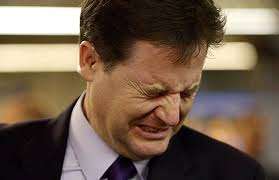 As was noted on Reason 24/7, David Cameron's coalition government is facing additional strains after failed House of Lords reform promoted some of the strongest calls for dissolution of the government in months. The defeat is bad news for the Conservative's partners in coalition, the Liberal Democrats, who included House of Lords reform in their 2010 election manifesto. The Labour opposition has seized on the coalition's rift, calling it a humiliation.
The Liberal Democrats had been pushing for legislation that would have made 80 percent of Britain's upper chamber directly elected. However, the bill didn't make it to a vote as it failed to pass consideration by the House of Commons, where Members vote on whether to debate abill. As it is the House of Lords is made up of a mixture of hereditary peers, Religious officials, and those who impress the right Prime Ministers.
While it might seem obvious to most people that the Bishop of Ripon and Leeds should not by virtue of his profession get to vote on legislation, the issue remains contentious in British politics. Nick Clegg, the Leader of the Liberal Democrats and Deputy Prime Minister, has called for his party to oppose boundary review legislation in response to Conservatives killing House of Lords reform.
With reform of the House of Lords dead supporters of both the Tories and the Liberal Democrats have expressed their support for calling a general election before 2015.
If one examines the latest polling data it is hard to see why the Tories would support another general election. The coalition government has been controversial. The so-called "austerity" program, the tuition fees fiasco, and the phone hacking scandal have all contributed to a dwindling amount of support for the government. The liberal democrats who are traditionally considered center-left are hemorrhaging support while the Tories are struggling to contain a Labour resurgence. In the unlikely event of another hung parliament the Liberal Democrats would be more easily persuaded to join with Labour than risk another partnership with the Tories.
Were a general election be called there is a very good chance that the next Prime Minister would be Ed Miliband, a man who takes pride in the label "socialist". While the coalition government's "austerity" program is a bit of a joke it is at least a refreshing exception to the rhetoric heard in mainland Europe where more centralized control and bailouts are being put forward as realistic and serious solutions to the euro-crisis.