Russian Dissident Punk Band Pussy Riot Goes on Trial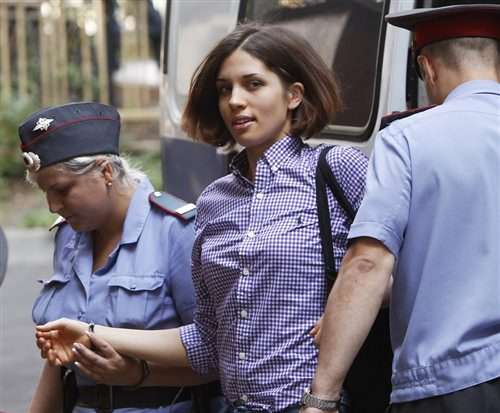 Today, over in Putin's unfree Russia, three members of the feminist punk band Pussy Riot go on trial for "hooliganism motivated by by religious hatred or hostility" for a February stunt where they performed "Punk Prayer"in Moscow's Cathedral of Christ the Savior during massive protests against then-nearly relelected President Vladimir Putin. The lyrics of the song include:
St. Maria, Virgin, Drive away Putin
Drive away! Drive away Putin!
Black robe, golden epaulettes
All parishioners are crawling and bowing
The ghost of freedom is in heaven
Gay pride sent to Siberia in chains
The head of the KGB is their chief saint
Leads protesters to prison under escort
In order not to offend the Holy
Women have to give birth and to love
Holy shit, shit, Lord's shit!
Conservative Russians were outraged at the blasphemy. The women, however, claim that their protest was politically-minded only — they wanted to protest the close ties that the Russian church has with Putin and the Russian government. They have apologized to anyone religiously offended, but say that they meant the politics behind the protest.
CNN notes some of the outcry:
The Orthodox leader Patriarch Kyril has been widely reported as saying Putin's years in power have been a miracle from God.
But the band's behavior in one of Russia's most sacred cathedrals has outraged many of the country's faithful.
"This is a disgusting thing to do," one woman told CNN.
"They should go to jail," said another. "A year or two. Let them to think about their behavior."
But even some of those who were offended believe the women should not be in jail.
"If necessary, God will punish them," said one man. "It must be not be cruel punishment."
The three women have pleaded not guilty to the aforementioned "hooliganism," but they are facing up to seven years in jail. Reuters has further details:
They were led into a metal and clear-plastic courtroom cage, where they milled and spoke with lawyers as preparations began. Tolokonnikova, in a blue chequered shirt, lowered her head to speak through a small opening in the enclosure. Two pairs of handcuffs hung at the ready just beside her face.
[…]
The protest offended many believers and enraged Kirill. The church, which has enjoyed a big revival since the demise of the officially atheist Communist Soviet Union in 1991 and is seeking more influence on secular life, cast the performance as part of a sinister campaign by "anti-Russian forces".
Pussy Riot's supports include fellow-dissidents in Russia, as well as Amnesty International, and Western musicians including Sting and the Red Hot Chili Peppers. Two of the women have young children. Here's hoping that the international attention (they're the headline on Drudge right now) gets them home safe.