Ri Sol-ju Wins Out As Kim Jung-un's "Excellent Horse-like Lady"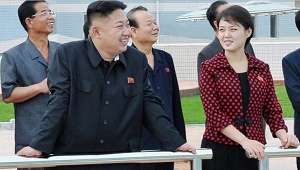 North Korean state television announced last night that the new leader Kim Jung-un had a wife, identified as "comrade Ri Sol-ju." The comment came during a report on Kim's visit to an amusement park, part of the long tradition of "looking at things" leadership North Korea helped pioneer. From Newser:
North Korean media showed Kim and Ri smiling broadly at each other, Kim leaning slightly toward her, as they inspected the newly opened Rungna People's Pleasure Ground, at one point watching a dolphin show… The news anchor spoke briefly, almost off-handedly, in identifying Ri, but gave no details, including how long she and Kim have been married.
The twenty-seven-year old Kim, recently elevated to the highest rank of the North Korean army, had been seen with a female companion for months, leading to speculation he was dating Hyon Song-wol, a North Korean "pop star" known for such patriotic tunes as "Excellent Horse-like Lady".
Kim Jung-un's grandfather, Kim Il-sung, remains the totalitarian state's "eternal president" and his wife, mother of long-time "Dear Leader" Kim Jung-il, is celebrated by the state as "the heroine of the anti-Japanese revolution." Kim Jung-il was never seen publicly with a woman even though he had wives and consorts, and several children, including a once heir-apparent who outed the Kims' penchant for Tokyo Disneyland.
More Reason on North Korea