President Obama: Not Being Outspent or Outraised By Romney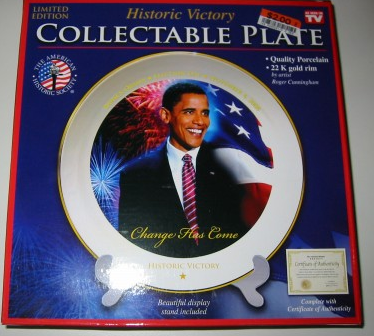 In his State of the Union address this year, President Obama lamented "the corrosive influence of money in politics." These days he seems more worried that there's not enough money in his own political campaign.
Over the last few weeks, the Obama reelection team has sent multiple fundraising emails warning that the president will be outspent."I will be outspent," warns the subject line of two separate emails address from the president. Another email from an Obama campaign staffer touches on the real fear: "If we're drastically outspent, there's a very good chance we will lose to Mitt Romney."
That's not a problem they have to worry too much about right now. Washington Examiner columnist Tim Carney ran the rest of the numbers and found that so far, the Obama has outraised and outspent Romney on every front: The Obama campaign has raised and spent more than Romney's; the Democratic National Committee has raised and spent more than its Repeublican counterpart; even the terrible no-good "outside groups" — the Super PACs, the 527s, and others — have spent more in support of Obama than Romney, according to Carney's own count. He reports:
Obama's campaign has raised $326 million to Romney's $227 million, according to filings with the Federal Election Commission and the campaign's own reports of its June fundraising. That's a 44 percent lead for Obama.

…Obama actually leads Romney in spending by more than 40 percent, according to the latest data—about $148 million to $104 million (this does not include June spending, which has not yet been reported). And Obama's margin is understated because much of Romney's spending was fighting off GOP primary rivals. Money spent attacking Newt Gingrich doesn't help Romney beat Obama.

Campaigns are only part of the story. When Obama or Romney do their $40,000-a-plate fundraisers, most of that money goes to the DNC and the RNC, respectively. The DNC has outraised the RNC $210 million to $187 million and outspent it by more than 50 percent—$175 million to $113 million, according to FEC data.

…Outside groups have reported $23.5 million attacking Romney, compared with only $11.3 million attacking Obama, according to the Center for Responsive Politics, or CRP. While that $23.5 million against Romney includes some of Gingrich's and Santorum's attacks, more than $18 million of it is liberal money by my reckoning.
With a $105 million haul, Romney beat Obama's $71 million June tally. But overall, the totals look like this (graphic via The Examiner):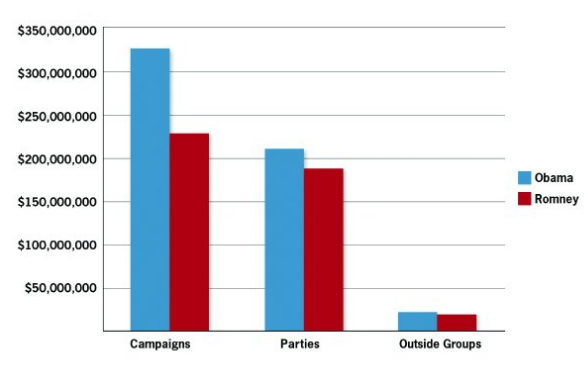 Maybe Obama is just worried that Romney will break Obama's own campaign spending record from 2008, when he "obliterated" the fundraising and spending of his presidential rival, John McCain.