Gary Johnson Supporters Plan Protest at CNN Headquarters in Atlanta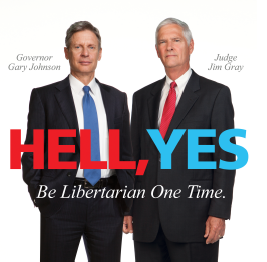 Frustrated that Libertarian Party Presidential candidate Gary Johnson isn't getting more coverage from CNN, Johnson's supporters are planning to protest outside the network's headquarters next week. 
An email from Chris Hill, who volunteers* for the Johnson campaign in Florida, says that "supporters of Gov. Johnson—and folks who just believe in fairness—are gathering at CNN Headquarters in Atlanta to let the network know that voters deserve the chance to learn that there is another choice in November besides President Obama and Gov. Romney." 
The protest will be held on July 15 and 16. 
More from that email: 
This isn't just about Gov. Johnson. And it isn't just about CNN. If the major media organizations across the country don't even include Governor Johnson in their polls, much less their coverage, millions of Americans who are ready for a third choice in 2012 will be robbed of their opportunity to be heard.

We want to let CNN – and all the other networks – know that we will not be shut out.

Join us in Atlanta July 15-16!  Then support our Twitter Bomb on July 16th at 11 a.m. EDT by using the following Hashtag: #BlackoutCNN.

For details, carpooling options, and everything else you need to know about our "protest", visit: CNN Protest For Fair Coverage of Governor Johnson.  
This is like a flashback to last summer, when Johnson attacked the major networks in various interviews for ignoring him. To be fair: Back then he was one of a dozen GOP candidates; now, he's the candidate for the third largest political party in the country.
*Hill is not paid by the Johnson campaign, in case that wasn't clear.