Europeans Apparently Don't Like Paying Sky-High Cigarette Taxes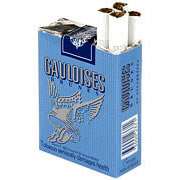 Europe appears to be on a bit of a roll, tax-wise, these days. The other day we heard about Greeks' impressive tax-dodging skills; today we learn that Europeans, overall, don't want to pay sky-high taxes on cigarettes. Government officials scold their subjects for failing to live up to their obligations, but maybe the real lesson here is that people can only be squeezed so hard before they look for relief wherever it might be found.
From the New York Times:
For years, law enforcement officers and smugglers have played cat and mouse in Europe, where contraband cigarettes are stashed in everything from furniture shipments to loads of Christmas trees. But Europe's four-year-old economic crisis is expanding the black market for cigarettes, robbing European Union nations of valuable revenue and drawing in a new class of smugglers.
The Times quotes a British judge lecturing a blind man who was caught with a horde of 200,000 smuggled cigarettes.
"You are 61 years old, and apart from a sentence in your youth for cannabis possession, you have remained law abiding for the last 40 years," Judge David Tremberg lectured him in court, issuing a curfew and a fine of about $1,000. "At a time when the public purse is at breaking point, this business robs the country of much-needed finances."

Indeed, the impact of lost tax revenues is enormous, especially since the European Union is partly financed by customs duties, 75 percent of which are passed to the bloc by its member nations.
The lost tax revenues are pretty significant. In Andalusia, "contraband cigarettes commanded 20 percent of the market," while in Ireland "smugglers are robust competitors with legal cigarette companies, reaching more than 17 percent." Overall, smuggled cigarettes are estimated to account for 10 percent of the European market, costing governments "1 billion euros missing in the E.U. budget and up to 9 billion euros missing in the member states."
Why, one wonders, would perfectly nice European people not just smuggle untaxed cigarettes, but also purchase them from smugglers, costing their hard-working government officials "much-needed finances" that would otherwise help them balance those oh-so-tattered budgets? Hmmm …
"I sell a pack for 9.20 euros, while they can get one for 3.20," about $7.30 less, Mr. Gilsenan [a Dublin shopkeeper] said, noting that his sales declined 40 percent in the last four years and resulted in layoffs of two employees. Since then, he and other shopkeepers have formed a group called Retailers Against Smuggling that is pressing for higher penalties for smugglers.
A peak at European tobacco tax rates (PDF) shows that the cheapest place to buy cigarettes in the EU is Luxembourg, where taxes make up 61.11 percent of the tax inclusive retail selling price per pack, or 70.12 percent of the weighted average price per pack, depending on how you want to calculate it. By contrast, Americans pay an average (PDF) $1.49 in state taxes per pack of cigarettes, wth an average price per pack of $5.97 (not counting local taxes). Despite lower tax rates than Europeans pay, the U.S. still has plenty of cigarette smuggling, with the National Center for Policy Analysis pointing out in 2002:
The growth of cigarette smuggling is a key reason why cigarette tax revenues are not keeping pace with tax increases. Between 1992 and 2000, the average state cigarette tax rate increased 64 percent while gross state tax revenues rose only 35 percent. [See Figure II.] The apparent fall in smoking rates over this period was not nearly enough to account for the revenue shortfall. This suggests that states expecting higher revenues from recent cigarette tax increases may never see them.
USA Today explicitly stated the cause and effect last year:
A recent wave of state tobacco tax increases, designed to pump revenue into cash-strapped local governments, is inspiring an increasingly dangerous cigarette smuggling industry where big profits lure violent criminal gangs and drug traffickers into the booming illegal market, according to law enforcement officials and court records.
Who knew that if you tried to tax people beyond their willingness to pay, they'd look for alternatives that allow them to escape high taxes? It's a revelation.
At least, it's a revelation to government officials who see the little people as nothing more than milking cows for "much-needed finances."