Rock of Ages
Tom Cruise in hair-band heaven.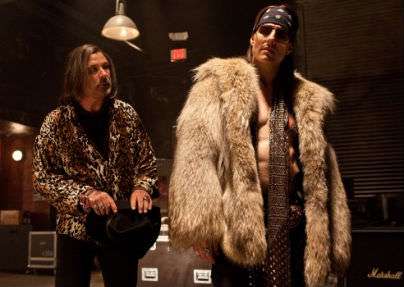 I went into Rock of Ages—an adaptation of a Broadway jukebox musical dedicated largely to hair-band hits of the 1980s—with expectations that barely rose to the level of modest. Whitesnake? Twisted Sister? Tom Cruise? What sort of Hell-brew might we have here?
The opening offered scant reassurance. Perky blonde ingénue Sherrie Christian (Julianne Hough) is onboard a bus taking her from her native Nowhereville to L.A. to pursue her dream of becoming a singer. Suddenly, in a moment of blinding cliché, she breaks into song—specifically, Night Ranger's "Sister Christian." Bad enough. But then the bus driver chimes in, and very soon all the rest of the passengers are singing along, too, and whatever small hope you may have had for this picture begins to wilt.
Sherrie arrives in L.A., meets a cute guy named Drew (Diego Boneta) and gets a job waitressing in a wild Sunset Strip rock club called the Bourbon Room, run by an aging longhair named Dennis Dupree (Alec Baldwin!). Dennis is being harassed by a priggish moral crusader named Patricia Whitmore (Catherine Zeta-Jones!), who's determined to clean up the Strip. In arrears on his taxes, Dennis is banking on a one-night appearance by wasted rock god Stacee Jaxx (Cruise), who got his start at the Bourbon Room, to save his club.
Somehow, against all disinclination, this limp setup begins to stir your interest. Cruise, with his chest full of tattoos, his pet baboon (who doubles as a bartender) and his odd jeweled codpiece, is very funny. (Told that people are saying he's succumbed to egomania, he responds, "Have these people even met themselves?") And the wall-to-wall hits—by Def Leppard, Bon Jovi, Journey, and, I'm afraid, Starship—exert a period pull that's hard to fend off. There's also a hip-cocking, air-punching Zeta-Jones rendition of Pat Benatar's "Hit Me with Your Best Shot" that has to be seen to be disbelieved. (Her fearless commitment to this nonsense is stirring in itself—she's really good.)
There's still the tepid love story to deal with, of course—what would a cheesy musical be without one? (Sherrie and Drew's love connection is sundered by a dopey misunderstanding, but they're reunited in the end.) And the withered flesh of earlier movie tune-fests peeks through the ambient glitter. Patricia's buzz-kill campaign against Hollywood rock naturally recalls Footloose (in last year's remake of which Hough starred), and a plot turn into a PG-13 strip club (run by Mary J. Blige!) summons unwelcome memories of the Cher/Christina Aguilera vehicle Burlesque (in which Hough, who strongly resembles Aguilera in both looks and belt-prone vocal delivery, also featured).
Problematic as well is the admirable Paul Giamatti, who, even equipped with a ponytail and ear stud, is too innately likable to be convincing as Cruise's sleazy manager. And then, of course, there's the dialogue. "It's not fame and fortune you're searchin' for," Blige tells the downcast Hough. "It's love. And love left this place a long time ago."
But there are also moments of invention so outré you may feel yourself being won over against your will. In one of these, club-owner Dennis and his assistant, Lonny (Russell Brand playing Russell Brand), reveal their long-buried romantic yen for each other in a duet version of REO Speedwagon's "Can't Fight This Feeling." And in the movie's centerpiece scene—a wild sex wrangle involving Cruise and a fetching Rolling Stone reporter (Malin Akerman), set to the swelling strains of Foreigner's "I Want To Know What Love Is"—we are presented with a number of unforgettable things: Cruise sinking down to sing directly to Akerman's pantie-clad butt, and Akerman, in turn, ripping open Cruise's black-leather trousers with her teeth.       
It was at this point that I surrendered. However ridiculous Rock of Ages may be, its goofball charm is difficult to resist. However much you may once have scoffed at some of the chart-fodder hits on parade here, in this giddy context they (mostly) pull you in; and Cruise's stumbly, 'luded-out performance trumps the picture's abundant absurdities. Unlike so much else in the movie, he actually rocks.
Kurt Loder is a writer living in New York. His third book, a collection of film reviews called The Good, the Bad and the Godawful, is now available. Follow him on Twitter at kurt_loder.