"This election is going to boil down to a turnout game," Walker Wins in Wisconsin With High Turnout That Was Supposed to Help Democrats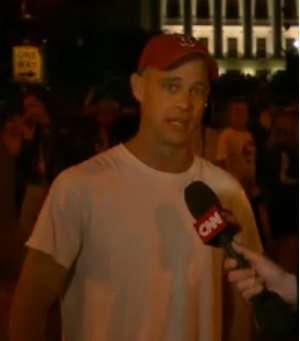 High turnout is supposed to help Democrats, or so the get out the vote theory held by many Democratic analysts goes, and Wisconsin was supposed to be no exception. But turnout across Wisconsin was high and at the end Scott Walker outperformed the polls yesterday. Given the heavy union involvement in the recall effort, their ground game was supposed to be a game changer. From the Huffington Post:
National unions have kept Barrett's campaign alive by funding outside groups dedicated to defeating Walker.
More than a year since Walker limited collective bargaining rights for most public employees, the nation's three largest public unions — the National Education Association (NEA), American Federation of State, County and Municipal Employees (AFSCME), and the Service Employees International Union (SEIU) — have channeled at least $2 million from their treasuries and super PACs to two Wisconsin-based independent expenditure groups…
"This election is going to boil down to a turnout game," said AFSCME national spokesman Chris Fleming…
Wisconsin is ground zero in a national fight for unions, which have supported state-based legal and ballot campaigns to overturn laws restricting collective bargaining and automatic dues check offs — as they have in Wisconsin, Ohio, Arizona and Michigan.
[Mike] McCabe [the director of Wisconsin Democracy Campaign] says the unions better bank on a ground game, because they can't compete long-term with corporations.
"I always thought it was foolhardy to play a capital-intensive game when the unions have people, and their adversaries have capital," he says. "They just can't keep up."
But keep up the Walker partisans did. Despite the union myth that only corporate money could cause anyone to support Scott Walker, Walker not only outperformed the polls on Tuesday, he also improved on his 2010 results, getting 200,000 more votes than he did to get elected. While the latest Reason-Rupe poll showed Obama leading by 10% over Romney while Walker led by 8% (he ended up winning by about 6%), Walker's victory could spell bad news for the president. From Bloomberg:
An exit poll of recall election voters conducted yesterday showed Obama beating Romney, 51 percent to 44 percent.
If this presidential election plays out similar to those held in 2000 and 2004, Romney could have a fighting chance. Former President George W. Bush came within several thousand votes of winning the state in both of those election cycles.
Also boosting Republican confidence in the state are their 2010 victories, when the party won the governor's office, as well as a U.S. Senate seat held by Democrat Russ Feingold. They also picked up two House seats in the state's eight-member delegation and gained control of both chambers of the state legislature.
Some Democrats were pushing to have President Obama come to Wisconsin to campaign against Walker, though given the fact that exit polls showed majority support for Obama even while Walker won it's unlikely to have made a difference.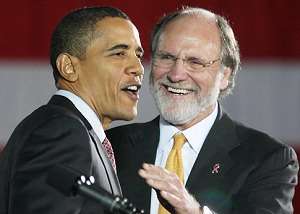 The president's record has been pretty miserable on this front; in 2009 Jon Corzine lost in New Jersey and Martha Coakley lost in Massachusetts despite high-profile appearances by the president. (In that same election cycle, meanwhile, a relatively unknown local Democrat nearly defeated Michael Bloomberg's grab at a third term. President Obama was curiously absent in that race, and arguably his presence there could have made the difference)
In the last few weeks two sitting Congressmen also lost despite the president's support; Silvestre Reyes lost to a pot legalizer in the recent Texas primary and just last night Steve Rothman lost in New Jersey despite a last minute visit to the White House and his touting himself as Obama's first and only supporter in the 2008 New Jersey congressional delegation. Bill Clinton, meanwhile, campaigned heavily for his opponent, Congressman Bill Pascrell, thanks to his endorsement of Hillary Clinton in 2008. Despite having more of his old district's constituents in the new district, Rothman lost by more than 20 percentage points.