Wisconsin's Dwindling Desire to Recall Scott Walker
Despite earlier predictions, union-targeted governor appears likely to survive today's recall.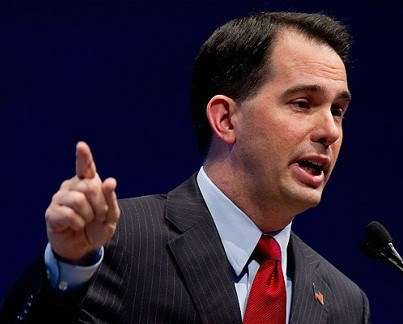 Today's Wisconsin recall election is extraordinarily close, but polls show Gov. Scott Walker leading Milwaukee mayor Tom Barrett by about 6 percentage points on average, according to Real Clear Politics.
The latest Public Opinion Polling poll indicates a majority favor Walker's job performance, 51 to 47 percent, up from a 57 percent disapproval rate last year.
With 50 percent of respndents saying the state is on the right track (up significantly from last year, when 62 percent thought the state was on the wrong track), the pre-vote polling indicates a substantial shift in public opinion. Overall, public opinion tracking demonstrates Walker has bounced back since the height of last year's public union dispute.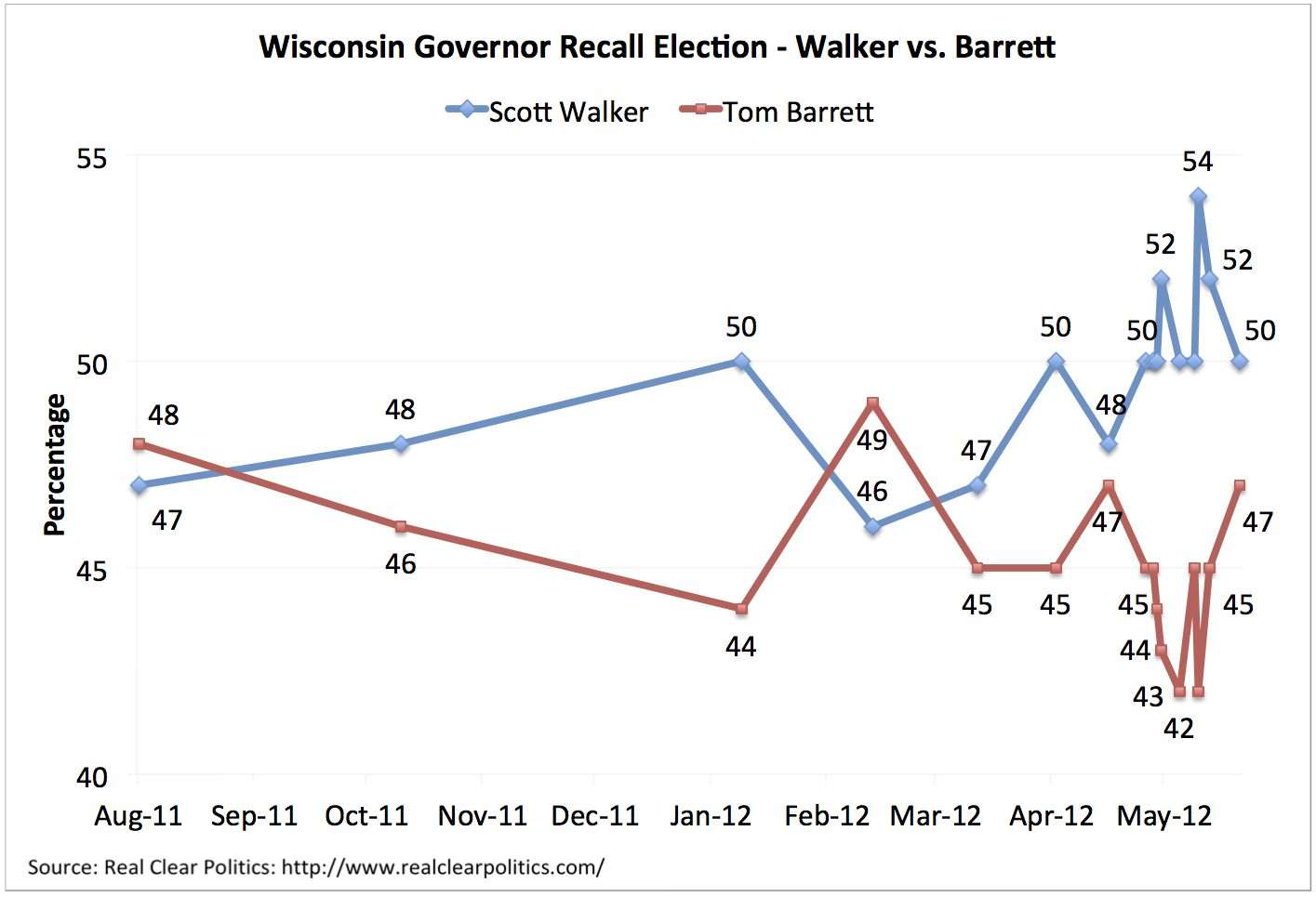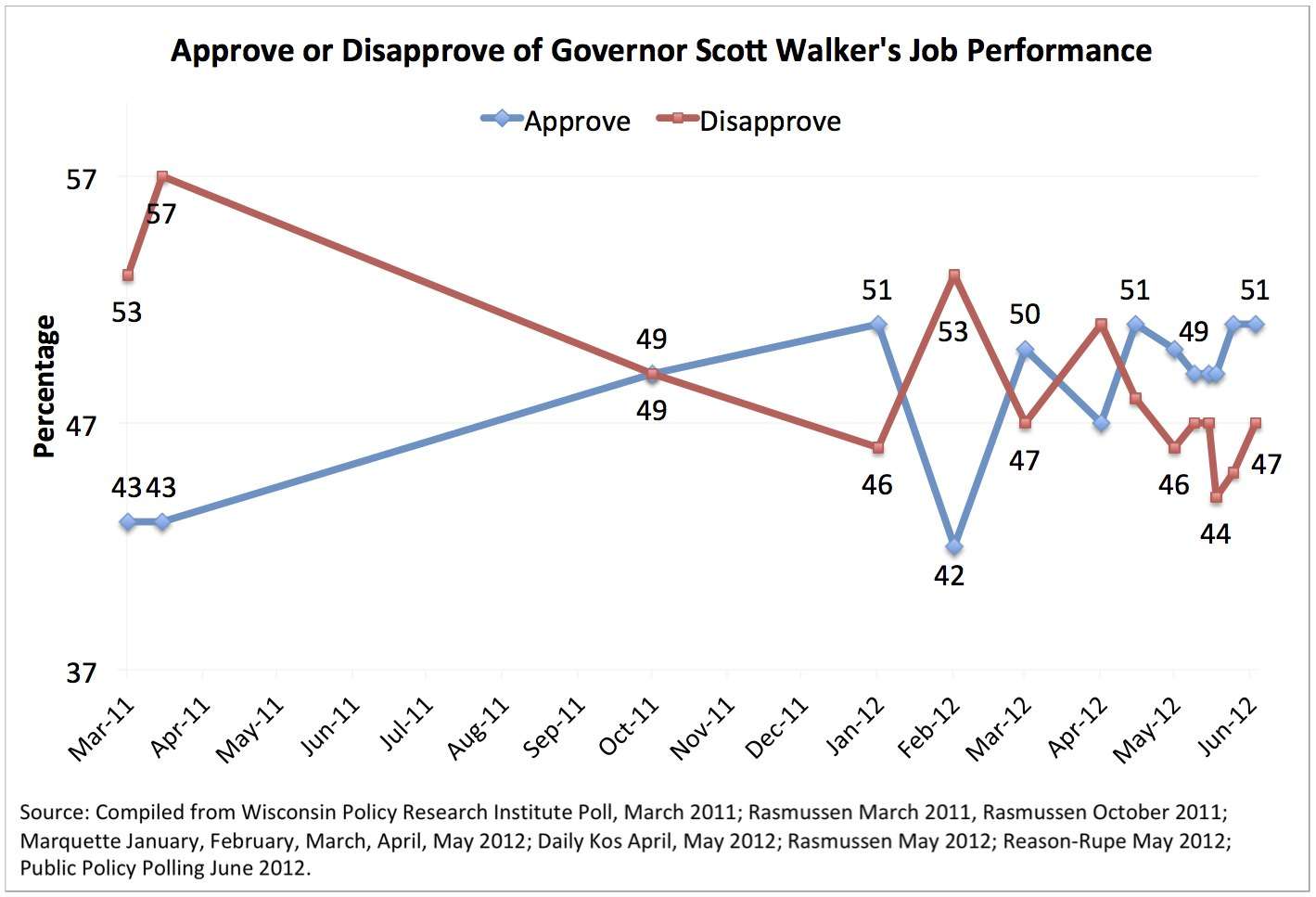 Last year public opinion polls showed majority opposition to Walker's plan to reduce the budget deficit and curb public sector union collective bargaining, with positive attitudes toward public employees (67 percent favorable) and public unions (59 percent favorable). About half of Wisconsin voters perceived Walkers' proposed changes to public unions as an attempt to get rid of unions, 43 percent thought they were necessary reforms.
Handling of the legislation also angered Wisconsinites in 2011. Despite the legislature's Republican majority, Democrats fled the state, preventing a quorum and thus a vote on the bill. Both parties rejected each other's attempted compromises. Republicans later discovered they could get around the quorum requirement by removing fiscal elements of the bill. Straightaway the legislature passed the bill and it went into effect June 2011.
Nearly two-thirds of Wisconsinites wanted Walker to compromise, but also a majority (51 percent) opposed Senate Democrats' leaving the state to avoid a vote. Ultimately, the law went into effect June 2011 and public unions, United Wisconsin, and the Democratic Party of Wisconsin began a petition to recall Governor Walker.
Over the past year, however, attitudes toward Walker and his reforms have warmed considerably. By January 2012 anxiety had settled; Marquette found 54 percent of Wisconsin voters thought the state was "better off in the long run" because of "changes the state government made over the past year." Despite concerns the law would compromise educational quality in the state, 68 percent were "satisfied" with the "job public schools are doing." Public sentiment shifted from 62 percent who said the state was on the wrong track to 50 percent who said the state was on the right track.
Favorability has shifted toward the governor, from 57 percent disapproval rating last spring to a majority favorable this month. In turn, Wisconsinites have also cooled toward public sector unions: whereas 34 percent had unfavorable attitudes toward public unions in 2011, this number has risen to almost half. Today, nearly the same percentage of Wisconsin residents have unfavorable views of the governor as they do of public unions.
Current opinion polls now find considerable support for Walker's reforms. According to the latest Reason/Rupe poll, 72 percent of Wisconsin residents favor increasing pension contributions from less than 1 percent to 6 percent. 71 percent favor increasing contributions from 6 to 12 percent of the cost of health care. Half favor ending automatic union dues deductions for government employees, and a slim plurality favor limiting collective bargaining to wages, 47 percent to 46 percent. (Although, 57 percent oppose exempting police officers and firefighters from rules changes)
Despite mixed job reports, Wisconsin residents perceive an improving job market. A plurality (38 percent) of Wisconsinites say there are more jobs in the state compared to a year ago. This percentage is up significantly from February 2012 when only 18 percent thought there were more jobs.
In sum, Wisconsin public opinion has shifted from opposition to general support of public union reform. Last year's polls suggested a Walker defeat in today's recall. However, subsequent polling data indicate the public is not yet willing to oust their governor.
Emily Ekins is the director of polling for Reason Foundation where she leads the Reason-Rupe public opinion research project, launched in 2011. Follow her on Twitter @emilyekins.